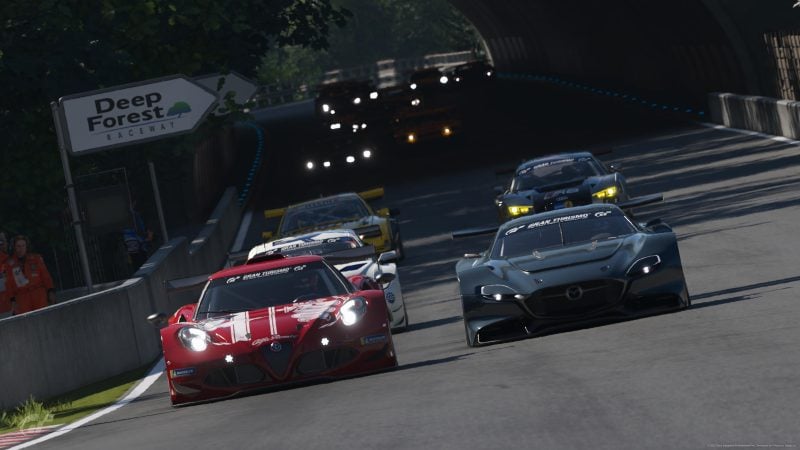 The flagship esports event of Gran Turismo, the GT World Series, starts today in Gran Turismo 7, with the 2022 Series Test Season.
Although the name suggests there's less importance attached to the series, it's not something you should approach in that manner. In previous years we have seen live event invitations going out to drivers who did well in similarly understated seasons, and pick up vital points that have seen them qualify for the showpiece World Final.
However it's clear from the rather short calendar and quite odd race choices that this event will be more about testing Gran Turismo 7's ability to succeed GT Sport in this department. The races, four in each championship, will take place over the next week, and the calendar is as follows:
Nations Cup
Round 1 – March 21 – Tsukuba Circuit/Mazda Roadster (ND) 2015 – 7 laps
Round 2 – March 24 – Tsukuba Circuit/Mazda Roadster (ND) 2015 – 7 laps
Round 3 – March 26 – Tsukuba Circuit/Mazda Roadster (ND) 2015 – 7 laps
Round 4 – March 28 – Tsukuba Circuit/Mazda Roadster (ND) 2015 – 10 laps
Manufacturers Cup
Round 1 – March 22 – Deep Forest/Gr.3 – 5 laps
Round 2 – March 25 – Mount Panorama/Gr.4 – 4 laps
Round 3 – March 27 – Suzuka Circuit/Gr.3 – 4 laps
Round 4 – March 29 – Laguna Seca/Gr.4 – 7 laps
While it seems a little strange, all four rounds of the Nations Cup are identical other than the fact that the final round is over 10 laps instead of seven. The renamed Manufacturers Cup has a little more variety, with two Gr.4 and two Gr.3 races, each featuring a 5x tire wear multiplier. All eight rounds have a seven-minute qualification period.
If you're not familiar with the series, the premise is that you race against other drivers, representing yourself (Nations) or a specific car marque (Manufacturers). You'll gain points towards your ranking depending on your finishing position and based on how difficult your opponents are — racing against A-rated drivers is more valuable than against D-rated drivers.
You'll have multiple chances to enter each race, but only your last finish counts — even if you fail to score or are disconnected. However your worst scores won't be counted towards your total, with one round dropped in Manufacturers and two in Nations. The timings for each race, set to Universal Coordinated Time, are as follows:
Oceania: 0800, 0900, 1000, 1100, 1200
Asia: 1000, 1100, 1200, 1300, 1400
Europe, Middle East, Africa: 1600, 1700, 1800, 1900, 2000
Latin America: 2200, 2300, 0000 (+1), 0100 (+1), 0200 (+1)
North America: 0000 (+1), 0100 (+1), 0200 (+1), 0300 (+1), 0400 (+1)
For the Manufacturers Cup you will sign a contract with a brand which lasts through to the end of the current season. The manufacturer supplies you with a Gr.4 car and a Gr.3 car, so you don't have to buy them in order to race.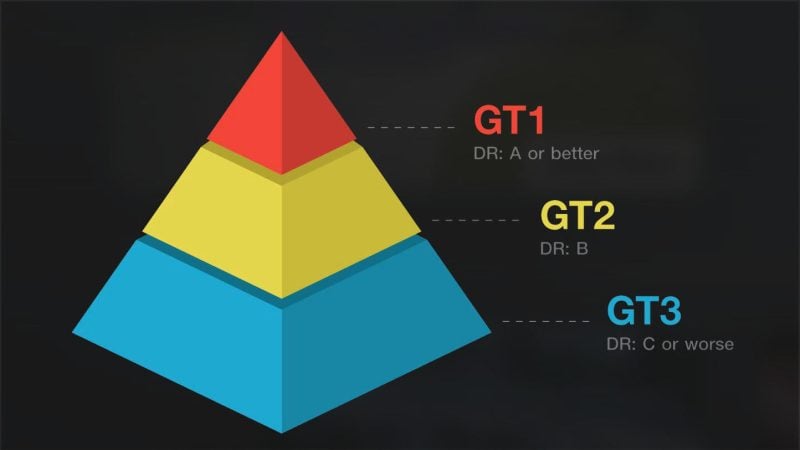 There's a couple of key changes for this season too, besides the new name for the Manufacturers Cup.
Firstly, players from different driver rating (DR) groups will be split into separate leagues, with GT3 League for players at DR C and below, GT2 League for players at DR B, and GT1 League for players at DR A or better.
You'll be assigned a League based on your DR rating at the time you enter the season, and stay in that League until the season ends whether your DR goes up or down. Each League has its own scoring, but it remains to be seen how that will play out.
While it won't affect functionality, a more significant change comes with what the series doesn't include any more: FIA branding.
The FIA, motorsport's official governing body, was associated with the championship all the way through GT Sport's life, and recognized the champions by awarding them a trophy at the annual Prize Giving event. This branding disappeared with the final, exhibition-only "Road to GT7" series, but surprisingly doesn't appear to have returned.
We don't yet know how this will affect the 2022 season, or what prizes will be on offer, but we'll bring you more information when we have it.
See more articles on Gran Turismo World Series.