A short, third Test Season for the Gran Turismo World Series will get underway today, with players facing six races across the two official championships over the next week.
Unlike previous events, Test Season 3 won't run Nations Cup and Manufacturers Cup in a staggered format, but consecutively. It'll be the manufacturer event up first, with the solo series following on once the three races have concluded.
While the name "Test Season" once again suggests there's nothing in particular riding on this series — rather it's a test of how GT7 performs as Polyphony Digital looks to replace GT Sport as the championship platform — it's not necessarily meaningless.
As well as the fact that the races all affect your Driver and Sportsmanship Ratings, we have seen live event invitations going out on the strength of inter-season events in previous years.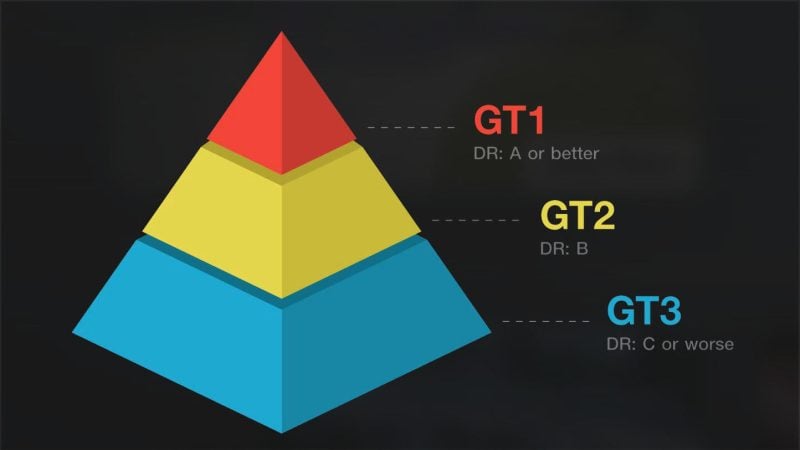 If you're not yet familiar with how the GT World Series operates, it's a pair of championships that sees you racing against other drivers, representing yourself (Nations) or a specific car marque (Manufacturers).
In the Manufacturers Cup you will sign a contract with a brand which lasts through to the end of the current season. The manufacturer supplies you with the Gr.4 car and Gr.3 car required for the championship — so you don't have to buy them in order to race — and you can keep them to do whatever you want until the next time you sign a contract for the next season.
Each race you take part in will see you gain points towards your ranking, depending on your finishing position and based on how difficult your opponents are; racing against A-rated drivers is more valuable than against D-rated drivers.
In each series you'll be assigned to a "League" which depends on your Driver Rating at the time you enter the championship: GT1 if you are DR A or better, GT2 if you are DR B, and GT3 if you are DR C or below. Although your DR might rise or fall, you'll remain in that League throughout, until the season ends.
You'll have multiple chances to enter each race, but only your last finish counts — even if you fail to score or are disconnected. However your worst scores won't be counted towards your total, although it's not clear how many rounds will be dropped in the current series.
The full calendar for the event is as follows:
Manufacturers Cup
Round 1 – April 29 – Brands Hatch GP – 16 laps – Gr.4 (630PP)
Round 2 – April 30 – Circuit de Spa Francorchamps/24h – 12 laps – Gr.3
Round 3 – May 1 – Trial Mountain – 12 laps – Gr.4
Nations Cup
Round 1 – May 6 – Dragon Trail Seaside – 16 laps – Gr.3
Round 2 – May 7 – Fuji International Speedway – 12 laps – Radical SR3 SL '13
Round 3 – May 8 – Suzuka Circuit – 15 laps – Gr.2 (except 2008 Super GT cars)
Each of the six races has a ten-minute qualifying window, and Balance of Performance (BOP) is turned on for all but one event. That means you will be locked into an assigned power and weight for your chosen car, and cannot adjust vehicle settings at all.
The exception for that is the very first race. This event for Gr.4 cars has a Performance Point (PP) limit of 630, and you can adjust any vehicle settings you wish as long as you don't exceed this threshold.
Two events have mandatory tire requirements too. The final Manufacturers Cup race has Racing Hard and Racing Medium options, but the Medium grade is also mandatory. Similarly the final Nations Cup race has all three grades of Racing tire as options, but the Hard and Medium are both mandatory.
In these races you must use the mandatory tires for at least one race lap each, or you'll have a one-minute penalty applied to your time after the race.
The timings for the race entry slots are as follows:
Oceania: 0900, 1000, 1100, 1200, 1300
Asia: 1100, 1200, 1300, 1400, 1500
Europe, Middle East, Africa: 1600, 1700, 1800, 1900, 2000
Latin America: 2200, 2300, 0000 (+1), 0100 (+1), 0200 (+1)
North America: 2200, 2300, 0000 (+1), 0100 (+1), 0200 (+1)
You can enter as many or as few as you wish, although only your final entered race each round will count towards your points total.
See more articles on Gran Turismo World Series.