The Gran Turismo series officially turns 25 years old this year — on December 23 — and the anniversary will be marked with a special celebration within Gran Turismo 7, detailed in a new PlayStation Blog post.
It will all get underway starting with the "25th Anniversary Update", to which Kazunori Yamauchi referred over the weekend, when it arrives in the early hours of Thursday November 24. That will see the main World Map section of the game get a snazzy, celebratory cosmetic overhaul, as you can see below.
As well as the various activities over the course of the Gran Turismo World Final weekend, November 24-27, which includes the Bonus Campaign for selecting event winners and the new Viewers Campaign, there'll be some in-game events with limited-time prizes running right through into the New Year.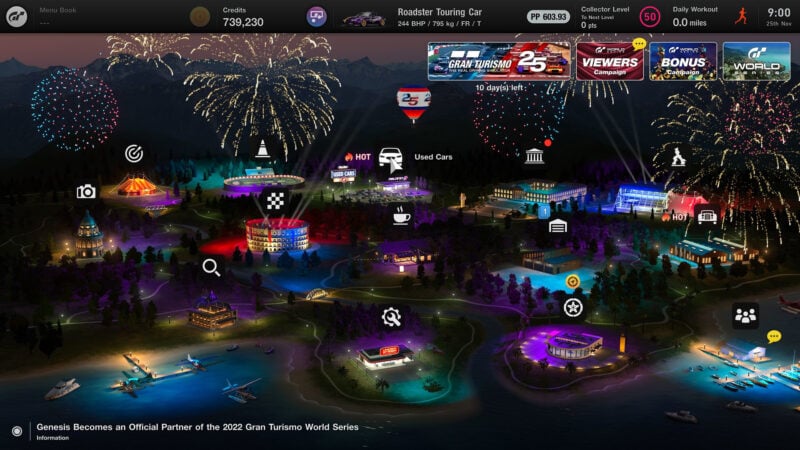 From the moment the update lands (and is copied and installed!) players will have access to a special "Increase Rewards Campaign" which sees a boost to the income possible in Sport Mode races.
Daily Race A — currently featuring the Chaparral 2J at Sardegna Road — will be replaced with a special race similar to one of the World Final races running through to Monday December 5. This will offer five times the usual credit reward, which is based upon your finishing position in the multiplayer race. You will need a PS Plus subscription to access the event however.
You won't need PS Plus to access the new Online Time Trials. This is described as a "complete recreation of World Final races to be held as a time trial" — likely hot laps based on the 11 different races featuring this weekend. They will run to December 5 and offer double the usual rewards, which are based upon your time gap to the best time globally; a maximum of 4,000,000cr will be available for a Gold time.
Finally, and again requiring PS Plus, there's a special set of Points Races — like official Online Exhibition series — running in two stages from November 24-27 and December 1-4. These will also recreate the World Finals events, and there's ten times the usual prize money on offer based on finish position.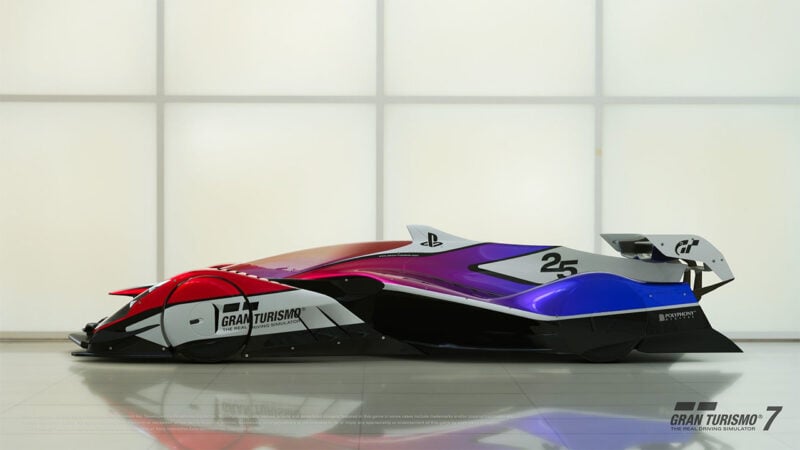 A new "Gran Turismo 25th Anniversary" banner on the World Map will also give players access to some special races with increased prizes, although it's not entirely clear right now what they will be. An in-game schedule should appear after the update, with races running from November 25 to January 3.
All players who participate in the events will receive a Red Bull X2019 Competition car with a special 25th Anniversary livery. There'll also be new liveries for cars used in the World Finals events, including Nations Cup liveries, available through the in-game Showcase.
See more articles on Gran Turismo 7 Game Update.