Update: Lucas Ordonez has tweeted to clarify that the item was placed by the local agency creating the set and has no connection to Gran Turismo 7.
A new video from PlayStation Spain appears to have teased the existence of the Australian F1 Grand Prix circuit, Melbourne's Albert Park, in Gran Turismo 7.
The clip, posted over the weekend, features the first ever GT Academy champion Lucas Ordonez and recently crowned FIA Certified Gran Turismo Online Championship Manufacturer Series champion Coque Lopez.
It's titled "Gran Turismo, the game that changed everything", with a subtitle of "the myth returns!". That's referring not only to Gran Turismo 7 itself, but the reappearance of circuits like Trial Mountain and Deep Forest after their absence from GT Sport.
In the video, Ordonez and Lopez talk about their memories of Gran Turismo, and particularly the returning tracks. They even engage in a head-to-head race, though we won't spoil the result. It all takes place in something of a Gran Turismo fan's dream basement, surrounded by Gran Turismo and PlayStation memorabilia, but there's one piece in particular that catches the eye: a poster on the far wall.
The poster clearly shows a circuit layout, and has two different Gran Turismo logos on it, with the GT symbol top-right and the Gran Turismo workmark bottom-left. There's a number of other details that are too hard to make out in the 1080p resolution of the video, although there's something that looks like a list of data in the top right.
However, the circuit itself is clear enough to identify as the Albert Park F1 track, as used from 1996 through to 2019 (with the 2020 race cancelled), before the modifications made for the (also cancelled) 2021 event. A closer shot reveals there's also a second layout on the poster, which could be the 2021 version of the track.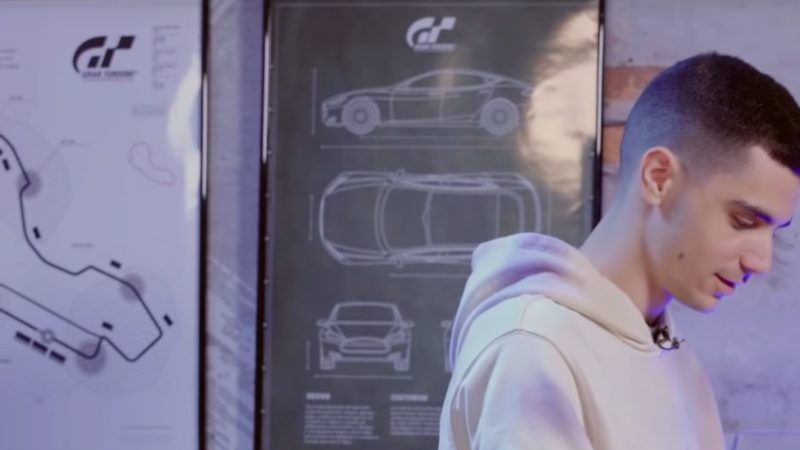 It's a thoroughly curious item, as the Melbourne circuit has never been in a Gran Turismo game to date. That of course begs questions about why the track would appear with Gran Turismo logos on it at all.
There's a chance it could just be an error on behalf of whoever created the set, or an old piece of memorabilia from a game the circuit was intended for but never arrived — though the red layout could preclude that.
The final possibility is that the circuit will be coming to Gran Turismo 7, either at launch on March 4 or later as DLC, and this piece of artwork was prepped for it and simply revealed slightly too early.
If that turns out to be the case, we won't have to wait long to find out, as GT7 launches in under seven weeks. For now though it remains a mystery.
You can watch the whole ten-minute segment below though, unsurprisingly, it's entirely in Spanish: