The very first set of Daily Races in Gran Turismo 7 is now available for players to make a start on building their Driver and Sportsmanship ratings.
As with GT Sport, you'll find the races under the Sport Mode section — which you'll need to unlock by completing Menu Book 9 ("Championship: Tokyo Highway Parade") in the GT Cafe single player hub. However, there are one or two differences from how things were eventually set up in Sport.
The overall format is similar, with three races labelled A, B, and C — though Race C won't be unavailable until March 14. It appears that they'll follow the general theme too, with Race A being a shorter, 12-car race for slower machinery, Race B for faster vehicles in a 16-car grid, and Race C thus should be a longer race for 20 cars with some more complicated rules.
However the more restrictive nature of the races in GT Sport has given way to a more open style. Rather than being required to race in specific cars, it now appears that you can race anything you like, with more loose eligibility settings, so long as it meets the set power and weight limits. Tuning is also enabled.
Race A in the current event will set you into any one of the "Pokemon" cars from Gran Turismo 7. That's the Honda Fit, Mazda Demio, or Toyota Aqua that you're essentially forced to choose to start your GT7 journey.
You can tune the car however you see fit, so long as you don't exceed the 147hp limit or drop under the 1,000kg minimum weight, and have Comfort Medium tires fitted. Furthermore, you can adjust any vehicle settings you choose.
It's a four-lap race of the High Speed Ring, which returns to the track roster with GT7 after its absence from GT Sport. Fuel use and tire wear are also both turned on, but at the regular 1x rates.
Race B also visits a returning track, for a four-lap race of Deep Forest, but in slightly more potent machinery. This time you can use any Road Car — which is any vehicle that has "#Road Car" in its Car Type — so long as it doesn't exceed 295hp or fall under 1,200kg, and uses Sports Hard tires.
Again, you'll have access to the full breadth of vehicle settings, so there should be plenty of variety on offer.
It's not clear right now when we can expect another set of Daily Races. While Race C is scheduled to join the offerings from Monday March 14, the official Daily Race announcement says they will be updated "irregularly". We'll update with more information when we get it.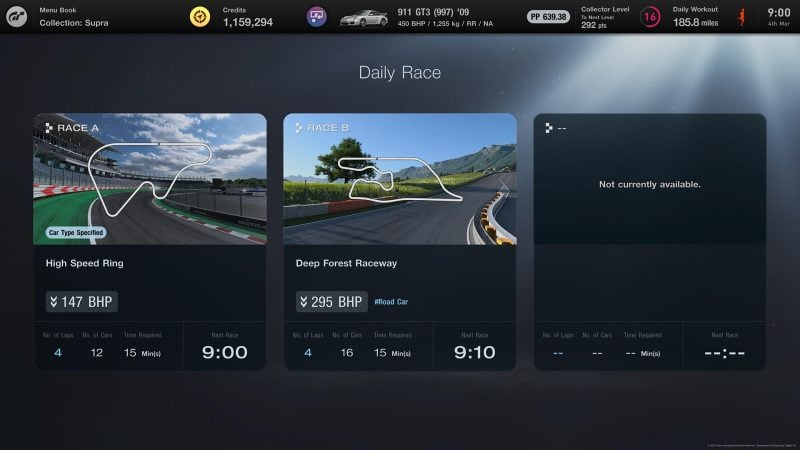 Race A
Track: High Speed Ring, 4 laps
Car: Honda Fit, Mazda Demio, Toyota Aqua – Garage Car
Power Limit: ≤147hp
Weight Limit: ≥1000kg
Tires: Comfort Medium
Settings: Enabled
Start Type: Grid Start
Fuel use: 1x
Tire use: 1x
Race B
Track: Deep Forest, 4 laps
Car: Road Cars – Garage Car
Power Limit: ≤295hp
Weight Limit: ≥1200kg
Tires: Sports Hard
Settings: Enabled
Start Type: Grid Start
Fuel use: 1x
Tire use: 1x
See more articles on Gran Turismo 7 Daily Races.