Alongside many other details from last night's Gran Turismo 7 info blast — the March 4 2022 release date, a fleet of new cars, and all the features heading to the game — was information on what tracks we'll be able to play when the game lands.
One that no Gran Turismo fan can possibly have missed is the return of High Speed Ring. Like Trial Mountain, which also returns for GT7, it's a circuit that has been in the game since the start but which GT Sport skipped out. That was due to scaling issues converting the PS2-era tracks, with PD preferring instead to work on new fictional circuits like Dragon Trail and Lago Maggiore.
High Speed Ring has been through a couple of layout revisions since its debut in 1997, and it looks like that's the case again for GT7, 25 years on.
Given that the circuit only has six corners, you might not think there's all that much to change. However there's a major alteration to the profile of turn two which actually creates quite an impact.
Turn two has always been the first braking point on the circuit, following on from the fast, banked turn one, but it looks like you'll have to do quite a bit more braking in GT7.
The corner entry runs at least 50m deeper than before, but the corner exit is only a few meters further over. That results in a far tighter turn with what looks like half the corner radius of before. In fact it's now the tightest turn on the circuit.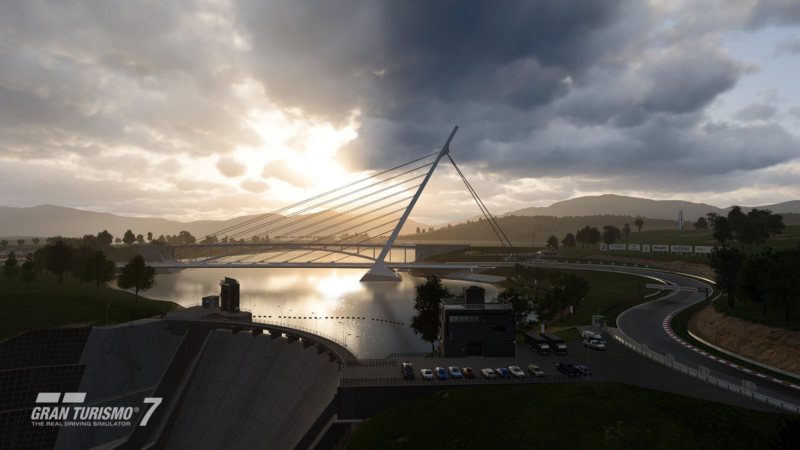 With a slightly wider exit, the centerpiece cantilever spar cable-stayed bridge has moved a few meters — a much easier task virtually than in the real world — resulting in a slightly tighter entry to the first part of the turn three/four chicane, and a smaller radius on exit.
Thereafter, the track resumes its original course, but with one fairly major change that will show up in longer races. For GT5 and GT6, the pitlane entry shifted well in advance of the final corner, but in GT7 it will resume a more original position after the corner exit and on the main straight.
High Speed Ring was one of several circuits revealed in gameplay in the trailer, but all of the remaining tracks shown carry over from GT Sport. Notably that includes the Circuit de la Sarthe which had been rumored to be subject to an exclusivity deal with another developer. This either means the deal hasn't come to pass, or the track is sub-licensed, or, with its March 2022 launch date, PD has beaten a deadline to get the track into GT7.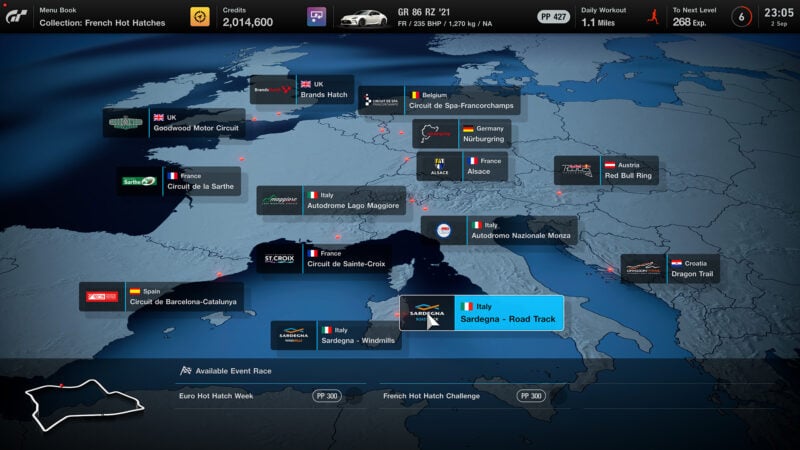 The trailer also showed off, more explicitly, a list of circuits in Europe and the Asia-Pacific region which would be coming to GT7. As expected from the previous trailer, this covers every circuit already in GT Sport, with the addition of High Speed Ring as a fictional circuit located in Japan.
In addition, the game's official sites were updated to include a circuit count, stating that GT7 would launch with 90+ "track routes" — previously known as "variations".
For those keeping count, GT Sport has 83 such variations, plus the Northern Isle Speedway Infield that's only available in certain missions and players cannot select for any other purpose. This would mean that, with Trial Mountain (forward and reverse), High Speed Ring (forward and reverse), and the Daytona oval and road course, we know of 89 variations and there's still at least one circuit yet to be revealed.
There was one hint as to what circuit that might be in the trailer, with a decal for Adria International Raceway appearing in the livery editor section — but not the map of Europe you see above.
We'll likely hear more about the game's circuits over the coming months, so stay tuned to GTPlanet for more!