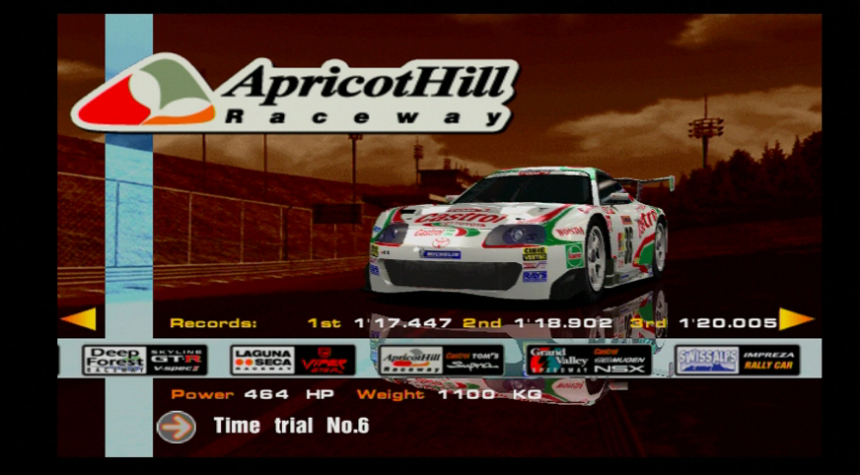 As you may have just read, GT3 celebrated an important 15 year milestone today. On July 20, 2001, the game became available in Europe following earlier roll-outs in North America and Japan. To celebrate, we're holding a little contest, with two prizes up for grabs.
For GTPlanet members with GT3, your challenge is as follows:
Head over to the Time Trials in Arcade Mode, and select No. 6 (Castrol Supra GT @ Apricot Hill).
Try to get your fastest time possible. There are no limits on the number of attempts.
Once you're satisfied, make sure at least the top original developer time is still visible (Y.Yasuhara, 1'17.447), and snap a picture of the Records board. It can either be at the pre-race menu, or the separate screen shown below.
Once you've got it, post the image to the dedicated forum thread (located right here).
The fastest person at the end of the month will win their choice of either a year's subscription to GTPlanet Premium, or a digital copy of GTPEDIA.
Members without GT3, have no fear! You can still win:
Head to the thread mentioned above and post your best guess for my final time.
The member closest without going under (faster) will have their choice of the same prize options as the racers.
As you can see above, I've managed to beat the top time set by the team, but that's the only hint you'll receive.
You only get one guess, so make it count!
Not a GTPlanet member? Register a free account here.
On August 1, we will announce the two winners. Good luck!
More Posts On...
The original comments for this post are no longer available.