Following a successful first season of "Hoonicorn vs. The World", which saw Ken Block take on all-comers in his highly modified Ford Mustang, "Hoonicorn", the team is back for a second season — with a major change in personnel.
Rather than rally star and stunt driver Ken, the Block that will pilot the 1,400hp, AWD Mustang is his 14-year old daughter, Lia.
Of course the Block family (and their insurance) wasn't about to let a teenager take the wheel of a methanol-powered monster like the Hoonicorn without being sure she could handle it, and Lia has been training in all sorts of vehicles over the last year to prepare for the series, with guidance from NHRA Top Fuel driver Leah Pruett.
As well as the driver change, the Hoonicorn itself has had some upgrades, largely with safety in mind. There's a halo seat and a new reinforced roll cage with additional intrusion bars on the door to protect Lia, and a paddle-shift system so she can keep her hands on the wheel throughout.
There's a major upgrade to the competition too. In the first episode of this season, the younger Block pits the Hoonicorn against a 4,000hp Pro Stock Corvette driven by NHRA driver Alex Laughlin.
While that might seem like a mismatch, the runway used in the series isn't exactly a proper strip, and the surface isn't prepped as a drag venue would make it. That means no glue, and a lot less traction.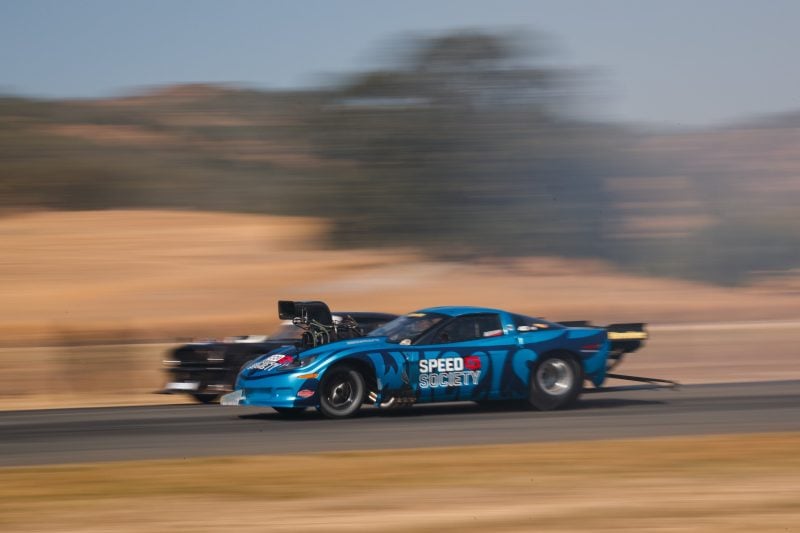 The drag Vette is only the first challenge for this season, with some of the other head-to-heads featuring what looks like Robin Shute's Pikes Peak-winning Wolf, a Tesla Model S Plaid, and "one of the world's fastest R35 GTRs", among others.
You can catch the first episode of the season now, and see who comes out on top in a full 1,000-foot race between the NHRA pro and a teenage girl. As the videos came at a rate of about one a week last season, you probably won't have to wait long to see Lia in action again!
Images courtesy of Hoonigan
See more articles on Ken Block.