With a month to go until Hot Wheels Unleashed 2: Turbocharged launches, Milestone has revealed the five new multiplayer game modes and the single-player story mode for the sequel.
Like the first title, the single-player campaign is based around a city map — though it seems to have had an update in the art style — with various events at certain road junctions that allow you to progress through different story forks.
Called "Creature Rampage", the theme for the story revolves around giant creatures, accidentally released into the city by one Professor Tanabe. You'll need to progress through the story to take part in five boss battles — each featuring an oversized animal which also appears to have its own track modules.
From the brief glimpse we get of the now-3D game map, these appear to include an octopus, a scorpion, and a pterosaur. There's four new characters for the game: Robert and Darla, their robotic assistant XR046, and the careless scientist Professor Tanabe.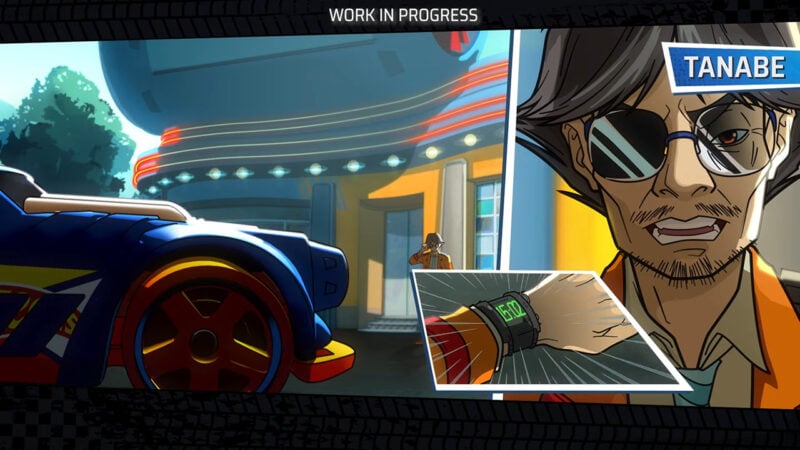 Milestone promises that "fan-favorite modes" from the original game will return, along with the five new modes showcased in the new trailer.
If you like to stick to the track, there's Drift Master and Elimination modes. In the former you'll need to get drifty, racking up as many points as you can for sliding sideways. Meanwhile in Elimination the last-placed player will be eliminated from the race every few seconds, making it a challenge to be the last person in first place.
Players will also be able to explore the new environments in two off-track modes: Grab the Gears and Waypoint. In each case you'll be required to race around the locations without the orange track.
For Waypoint you'll need to navigate to checkpoints around the map before your rivals, while in Grab the Gears there's reward crates of various levels dotted about the map which you'll need to collect and deposit in the bank before time runs out.
Finally there's a Clash Derby mode which will see players placed in monster trucks in a unique deathmatch arena. Here you'll get points for how hard and fast you smash into other players.
Hot Wheels Unleashed 2: Turbocharged will be available on PlayStation 4/5, Xbox One/Series, and Nintendo Switch consoles, as well as PC via Steam and Epic, launching October 19.
See more articles on Hot Wheels.