One of the latest entries in the steering wheel market was first announced last year by Thrustmaster. Dubbed the TS-PC Racer, the new product is touted as the company's first "open-wheel" design, and officially went on sale just over a month ago. Our friends over at Inside Sim Racing thoroughly tested the wheel recently to see how it stacked up.
The TS-PC is powered by a new 40-watt brushless motor. Mated to a new "Motor Cooling Embedded" system, the motor is far less prone to power losses when working at high temperatures compared to other wheels. The MCE also promises 50% improved dynamic response and four times stronger stall force than on previous Thrustmaster wheels.
Although the wheel's motorsport-inspired design won't appeal to all gamers, the quality of the materials used on the base can't be disputed. ISR's John Sabol confirms the materials look much better in person, and that they're worthy of the price tag — although he notes the 599XX's alcantara-wrapped rim left a much better impression on him.
For folks looking to mount the wheel to a desk instead of a rig, the threaded post has been given a rubber gasket around it, plus two more posts to keep the base more secure laterally.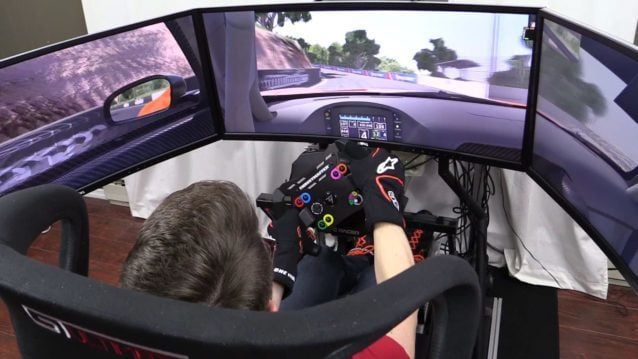 Sabol also stresses feeling a solid improvement in the force feedback domain — roughly 50% stronger than the Thrustmaster T300/TX by his own estimations. Smoothness has also seen a bump, at a comparative 25%. According to John, catching cars in corners is now easier and more fun because the wheel has been blessed with an additional feeling of weight.
John also makes a comparison with the higher-end Thrustmaster T500. Not only does the TS-PC Racer have slightly stronger feedback, but the T500 can't come close in terms of smoothness.
Although John wishes for a better-quality rim material and points out — in terms of Thrustmaster wheels — this is more of an evolution than a revolution, the TS-PC Racer gets the nod of approval. For Sabol, it all boils down to one simple thing: when driving with the wheel, he just didn't want to stop. We can't really argue with that.
The Thrustmaster TS-PC Racer steering wheel is currently available for $499.99 USD / £549.99.
More Posts On...