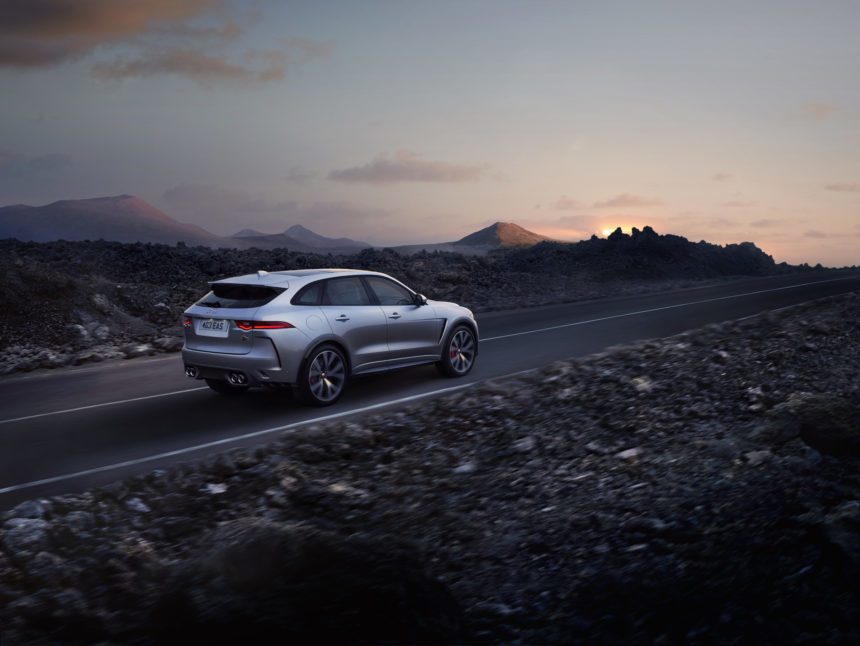 If you've always liked Jaguar's F-Pace, but held back because it's not quite fast enough, we've got some good news.
The Special Vehicle Operations (SVO) unit at Jaguar Land Rover has been rather busy. It's found the biggest engine it can — the supercharged, five-liter V8 — and shoe-horned it into the nose.
With 44% more power than any previous F-Pace model, the 542hp SVR offers a significant performance leap. The sprint to 60mph falls by almost 1.5 seconds, to just 4.1 seconds, and the top speed is up to 176mph.
Of course a V8 has to sound like a V8, so SVO has fitted an active exhaust system. This has a variable valve system to enhance the audio appropriate to your driving. It's a handy 14lb lighter than the regular F-Pace exhaust.
The V8 requires a number of adaptations to the car. The hood is unique to the SVR, with vents to help draw hot air from the engine bay. SVO has upgraded the chassis, fitting new progressive front and rear springs — 30% stiffer at the front, 10% at the rear — with a new anti-roll bar to reduce body roll by 5%.
To keep all the power in check it retains the F-Pace's all-wheel drive system, including all-surface progress control and surface response. It's the first F-Pace to use Jaguar's rear electronic active differential too.
SVO fits staggered wheels to help with the car's dynamics. Both the regular 21-inch and optional 22-inch wheels are an inch wider at the back than the front. Even with the larger options, the wheels are at least 4lb lighter than the standard F-Pace versions. They cover 15.5-inch, two-piece brake discs front and rear.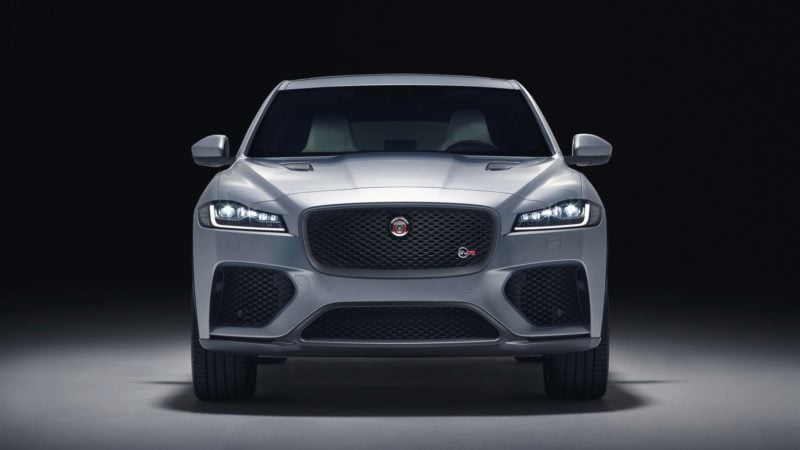 On the outside there's a number of aerodynamic changes. Larger air intakes help feed that V8, and fender vents reduce pressure in the wheel arches to reduce lift. SVR-specific wheel arch extensions, rear spoiler and bumper let it stand out visually.
The inside features sports seats in the front and rear, with SVR signature lozenge quilting and embossed logo. It's available in one of four colors, including a rather daring red, or more muted light grey, light brown or black. There's also an SVR-specific steering wheel and sports shifters.
Otherwise, the F-Pace SVR is unchanged from the regular vehicle, including a 10-inch touchscreen and a 12.3-inch HD instrument cluster. On-board Wifi allows for up to eight connected devices and the 650-liter trunk remains untouched.
Jaguar will make the F-Pace SVR available in the summer in the UK, with prices starting at £74,835.
More Posts On...