Okayama International Speedway brought an interesting turn of events for the 2016 All-Japan Formula 3 season. An unfortunate off-course excursion combined with mechanical difficulty during the second qualification session forced Jann to start from behind. Not being able to reach for the points, Jann would face a drastic reduction in the championship lead he had worked so hard to build.
Jann opened the weekend at Okayama by qualifying 5th for the first race. Qualifying was closely-fought, as Mardenborough's 1:22.268 lap time was with 300 milliseconds of the pole position. In the actual race Jann climbed one position, settling at 4th. The GT Academy champ eventually crossed the line with a total time of 25'43.491, around 10 seconds behind winner Kenta Yamashita from Team TOM'S.
It was the second qualification round of the Okayama weekend that brought misfortune for Jann. According to the official report, Mardenborough went off course on the first corner of lap 4. Although Jann tried to return to the course, certain electrical problems allegedly forced him to pit in and conclude the qualification process. With a lap of 1'29.067 set through his first 3 laps, Jann had to start the race from the back of the grid.
In the actual race Jann managed to rebound quite successfully. On the very first lap he succeeded in taking 10th position. The retirement of two vehicles in front of him on lap 4 bumped Mardenborough up the finishing order. Unfortunately, the situation wouldn't change during the rest of the 25 lap race. Jann would finish the second round of the weekend in 8th, approximately 22 seconds behind his B-Max NDDP teammate Mitsunori Takaboshi.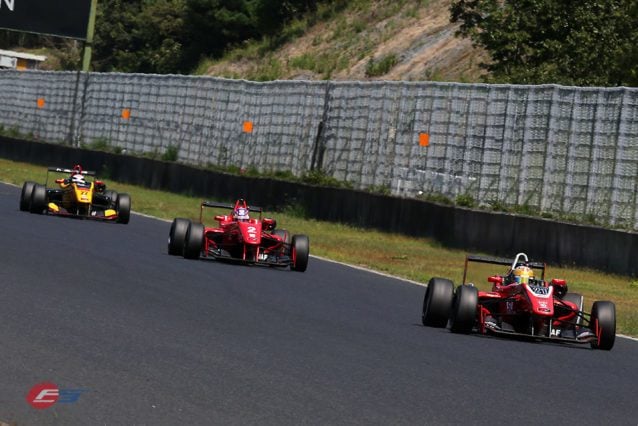 Jann's B-Max NDDP team picked up four points over closest rival Team TOM'S this weekend, extending the gap to 26. Jann still holds the lead in individual standings over his closest rival Kenta Yamashita, albeit by only 8 points compared to 19 after the previous round. That means it is still unknown who is going to claim the championship title.
Will Jann Mardenborough triumph in the Japanese open-wheel championship? We're going to find out at Sportland Sugo on September 24 and 25, when this score will be settled once and for all. We wish Jann all the best!
All images courtesy of the Official Japan Formula 3 website.
More Posts On...
The original comments for this post are no longer available.