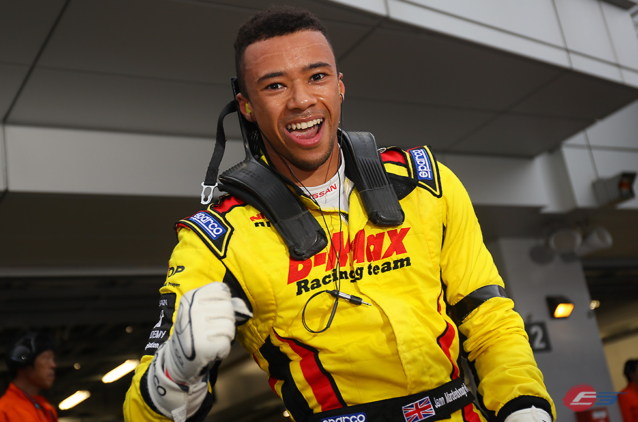 Soaked weather conditions greeted drivers of the All-Japan Formula 3 open-wheel series as they entered the 9th round of the series, taking place at Fuji Speedway. Although the weather stabilized by the time the field entered the qualification round, the track still wasn't dry enough to allow for a full-on slick tire compound. These conditions, however, did not stop Mardenborough from performing well.
By clocking a run of 1'51.268 in qualifying, Jann (#22) utterly blitzed the competition in the first race, with a considerable lap difference over his teammate Katsumasa Chiyo (#23), who settled in at second place with lap of 1'53.170.
"I like running at Fuji in rain, so I really enjoyed the qualifying," said Jann, who subsequently won the race itself by over 4 seconds over his closest rival, Sho Tsuboi (#37). One accident hit the race with the safety car having to interject on Lap 12 due to a crash involving Kizuku Hirota (#9). Although this disintegrated the lead Jann had been building until that point, it didn't affect the final result.

The second round at Fuji Speedway allowed drivers to switch tires over to the slick compound. Jann again finished the qualification round 1st, setting a leading lap of 1'49.962, half of a second ahead of his teammate Katsumasa Chiyo. In the actual race, however, the positions eventually swapped. While numerous back-and-forth passes happened, Chiyo was able to hold on to the lead over his British teammate, crossing the line 1.5 seconds ahead of Jann.
With the strong showing by the team, the championship results have seen a bit of a shake-up. Jann (B-Max NDDP) sits at the top of the pile with 62 points, 5 more over the closest rival, Kenta Yamashita (TOM'S). With 53 points in stock, Sho Tsuboi (TOM'S) is another driver currently battling for the title.
In terms of team progress, B-Max NDDP is guarding the top spot with 87 points, considerably ahead of team TOM'S (73 points).
The next two rounds of the series will be held at Twin Ring Motegi on August 20 & 21. Make sure to stop by official website for more information on race results. With only three races left on the calendar, the battle for the title could become quite the spectacle!
See more articles on Formula 3, Fuji Speedway, and Jann Mardenborough.