Day one editions and pre-orders are things we typically associate with video games. But Jeep is taking this concept and applying it to its upcoming Gladiator truck.
Sporting the name Gladiator Launch Edition, it's essentially a Rubicon with all the options. However, in true pre-order fashion, it does come with some bonus content. But also, just like pre-order content, it's not exactly super exciting either.
The wheels are painted Mid Gloss Black and are wrapped in 33-inch Falken Wildpeak All-Terrains. Also, the center instrument panel gets a coating of Monaco silver paint and the seats are black leather with red stitching. Finally, to round it all out the Gladiator gets a set of unique aluminum badges.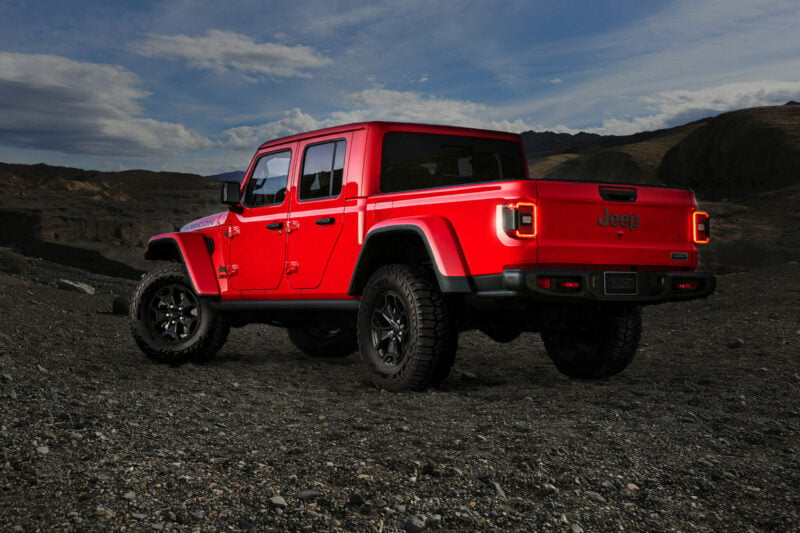 This is in addition to all the standard kit that comes on the Rubicon. This includes a two-speed transfer case with a 4:1 low range, electronically locking front and rear diffs, and Dana axles.
There are also several optional extras too. These include LED headlights, Alpine audio system, TrailCam, and a tow package capable of pulling up to 7,000lbs.
Buyers who pre-order will be eligible for a contest as well. Called Find Your Freedom, it offers a grand prize of a one-year, $100,000 salary. Yes, the winner of the contest gets a job.
According to Jeep, this prize will allow the winner to take a year off from their job to pursue the Jeep lifestyle. We're not sure how many jobs would just let you take a year off though. Also, what the Jeep lifestyle is, remains a bit of a mystery. Perhaps it's the Jeep thing that we don't understand?
To enter the contest, buyers will need to submit a Gladiator-themed video. Then Jeep brand managers and US Army vet Noah Galloway will judge the submissions.
If you're interested in getting in on this Launch Edition, the pre-order period is open for just one day. On April 4, you can log onto Jeep's website and connect with a concierge. Once connected, the concierge will walk you through the buying process.
You'll need to bring your checkbook though. The Launch Edition comes with a seriously hefty price tag of $62,310. But with just 4,190 slated for production, it's sure to sell out during its sales period.
If you're not keen on the Launch Edition, the other trim level of the Gladiator will hit dealer lots soon.
More Posts On...