Kazunori Yamauchi, creator of the Gran Turismo series and Senior Vice President of Sony Interactive Entertainment, received an honorary doctorate degree from the University of Modena and Reggio Emilia (UNIMORE).
Yamauchi-san received the degree in front of a packed auditorium, which included engineering students, faculty, local dignitaries, media, and over 50 Polyphony Digital team members.
According to University chancellor Dr. Angelo Andrisano, UNIMORE chose to award the degree to the Gran Turismo creator due to his "technical mastery of auto simulation, high level of competency with auto mechanics, and promotion of excellence in the auto industry."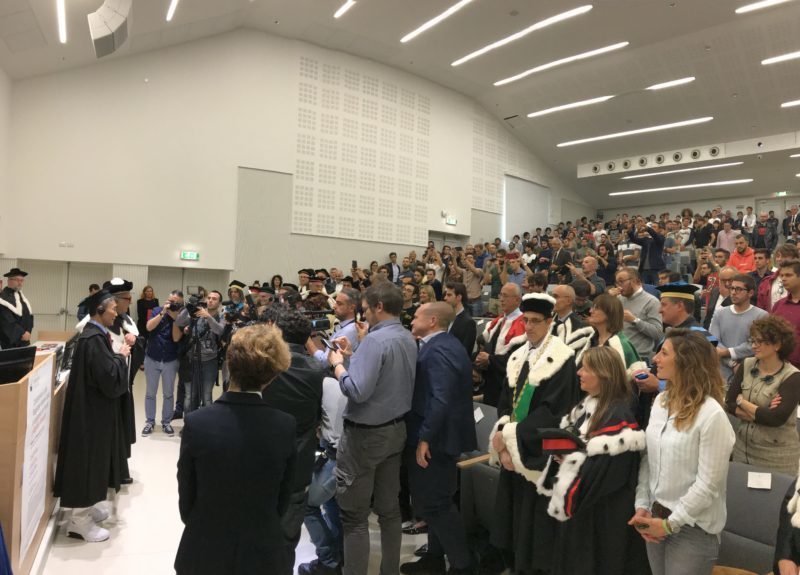 The chancellor admired Kazunori's life, referring to "the journey of a man who combined creativity and ideas with technological skills." Most importantly, the school wished to promote his career as an example for their own students.
Originally founded in 1175, UNIMORE is one of the oldest universities in Italy and the world. Today, it is an elite engineering school, and its close association with the Italian automotive industry leads many of its graduates to work for the country's most famous marques. The school's Department of Engineering is even named after Enzo Ferrari himself.
"When I started creating Gran Turismo, I could never have imagined that 25 years later I would be receiving such an honor in Modena. […] I will never forget this day, and 10 years in the future, when I look back at this event, it will have even deeper meaning for me," Kazunori said.
After receiving his degree, Kazunori gave a technical lecture to attending students and faculty, offering a rare look at the technology and techniques Polyphony Digital use to create Gran Turismo Sport. He covered a lot: check back tomorrow for our full report on everything covered in his presentation.
Congratulations, Dr. Yamauchi!
See more articles on Awards, Kazunori Yamauchi, and Polyphony Digital.