The already sporty Kia Stinger is getting an even hotter version. Debuting at the New York Auto show Kia is adding the limited edition Stinger GTS to its lineup.
Unlike most vehicles with a performance version, the GTS is not getting a power boost. However, it still uses the rather punchy 3.3-liter twin-turbo V6 good for 365hp and 376lbft of torque.
So what makes the GTS the hot version? A dynamic AWD system that's actually pretty slick.
Called D-AWD, the system can split the power in a handful of combinations depending on the driver's preference. Select Comfort Mode, and 60% of the power goes to the rear wheels while the remaining 40% goes to the front. This provides stability in all weather conditions but still allows for some spirited driving.
Things pick up when you move to Sport Mode. This transfers 80% of the power to the rear wheels for even more fun. However, with 20% of the power still going to the front, there's plenty of grip for tight, twisty roads.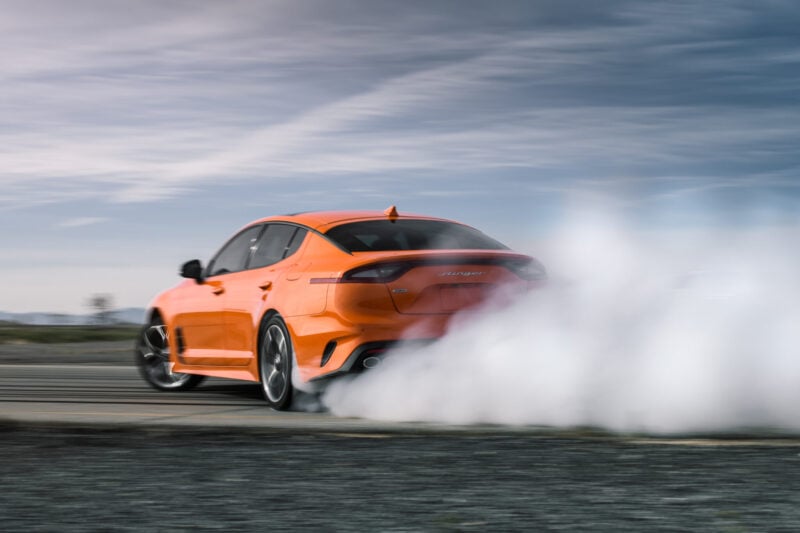 Finally, for the ultimate bit of fun, the GTS comes with a Drift Mode. This sends 100% of the power rearwards and lets you get smoking and sideways. While there's pretty much zero reason for this mode to exist, but we still fully support it. After all, cars like this should be fun and this only adds to it.
In addition to the drivetrain, the GTS also gets a few other sporty bits of flair throughout. The mirrors, grille surround, and side vents are made from real carbon fiber. There's also some unique badging for the car as well.
To complement the carbon parts, the GTS also gets a new paint color that's rather bright. Called Federation Orange, it makes the GTS hard to miss no matter where it is.
Finally, the GTS also gets a few standard options. These include an Alcantara steering wheel, Chamude-covered headliner, and a wireless phone charging system. Also as standard is a sunroof and a booming 720W Harman/Kardon sound system.
If this all sounds interesting to you, you'll need to act fast if you want a GTS. As of right now, Kia has only slated 800 GTS Stingers for production.
The GTS will be available later this spring in both AWD and RWD configurations. The rear drive car will command a $4,700 premium over the GT at $44,000. The AWD is slightly more expensive at $46,500.
See more articles on Kia and New York Auto Show 2019.