It's a project that has been 13 years in the making, but it looks like there'll soon be a new Lancia Stratos. Well, sort of.
Italian atelier Manifattura Automobili Torino (MAT) will build 25 examples of a new Stratos. It will display the first of these cars at next month's Geneva Motor Show.
The Stratos is one of the most famous and feared cars ever made. Lancia built just 492 examples over five years, from 1973-1978. Mounting a Ferrari Dino V6 in the middle of a vehicle with such a short wheelbase meant the Stratos was a little twitchy, but the mix of power and maneuverability gave it great rally credentials.
With the Stratos, Lancia won the 1974 World Rally Championship. It did it again in 1975. And then again in 1976. Despite FIAT deciding it wanted to do the rallies itself from then on, privateer Stratos entries kept winning — taking the Monte Carlo rally again in 1977 and 1979.
It's little wonder then that there's such interest in a modern version of the car.
Stratos enthusiast and car designer Chris Hrabalek built his own interpretation. He displayed his "Fenomenon Stratos" at the Geneva Motor Show in 2005, and lit the spark. Hrabalek — who, bizarrely, later had a court battle with his own father over ownership of his original Stratos collection — inspired fellow enthusiast, Michael Stoschek, to commission his own modern Stratos.
Stoschek, chairman of the Brose automotive parts supplier company, tasked Pininfarina with creating his car. Pininfarina adapted Hrabalek's design to fit a Ferrari F430 Scuderia.
In order to preserve the proportions, Pininfarina shortened the Ferrari's chassis by eight inches — all in the wheelbase. It added a roll-cage and carbon fiber body, resulting in a car weighing just 2,750lb. With the engine wound up to 533hp, reworked suspension and a mechanical differential, this Stratos was every bit the handful that the original was.
After a 2010 reveal, Stoschek planned a 25-car run at $800,000 a time. But Ferrari reportedly got in the way. The story at the time was that Maranello was unhappy with the use of the Scuderia chassis and engine, and told suppliers not to engage with the project.
But you can't keep a good man down, and — eight years later — Stoschek has found a way. He has commissioned MAT to build the 25 new Stratos models.
You may not have heard of MAT, but you'll be familiar with its work. The company creates bespoke sports cars for wealthy customers and clients. Among its portfolio is the Apollo Arrow, the successor to the Gumpert Apollo. It also built the SCG003 for James Glickenhaus, and its predecessor, the "Ferrari" P4/5.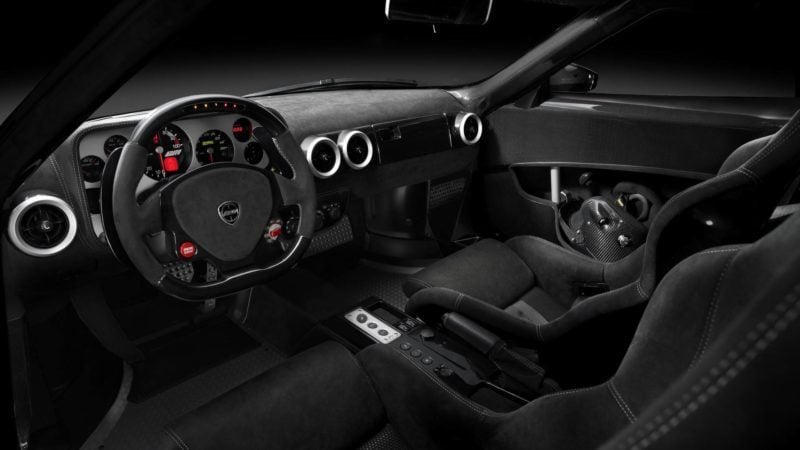 Neither Stoschek nor MAT are big on technical details just yet. All we know at the moment is that it replicates the same design and technologies, and has around 550hp. What power unit produces those 550hp is, for now, under wraps. It should be similar in length and weight to his 2010 original though.
MAT does say that it will make three versions of the car. There'll be a GT racer, a "Safari" version — which we assume will be rally-oriented — and "a competent supercar for the daily use".
The company will reveal all, including pricing, when it shows the Stratos off at the Geneva Motor Show next month.
More Posts On...