Land Rover has unveiled its all-new Evoque and it packs more technology and off-road capability than ever before.
When it comes to the overall design, Land Rover has stuck with a relatively unchanged shape for its smallest car. However, there are a few new details that freshen it up a bit. Things like the headlights, fascia, and tail lights, all get a bit of a nip and tuck. The new features move the Evoque more in line with last year's Velar.
Under the hood, there are several engine choices for customers to choose from. They're all two-liter four pots, but are available in several different power configurations. There are also diesel and petrol variants available too.
To start the range off, the Evoque gets a 148hp diesel engine. Move up to the top of the line P300 model, and it's packing 296 ponies and 295lbft of torque. Several of the engine options also come with a mild hybrid system too — a first for Land Rover. It's not going to win environmental awards, but it does help boost the economy to 50.4 mpg (UK). For customers looking for something a bit greener, Land Rover will introduce a plug-in hybrid within 12 months.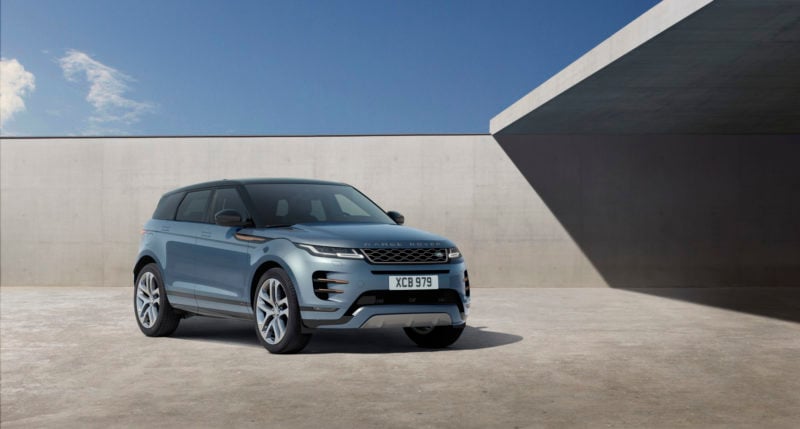 The real party piece for the Evoque though is its off-road prowess — after all, it is still a Land Rover.
For this 2020 model, the Evoque is now capable of fording 23.6 inches of water. That's 3.9in more than the previous generation. There's also a new monitoring system that will measure the water level for you so you don't inadvertently get out of your depth.
To go with the new water-crossing ability, the Evoque also gets a clever traction system. Carrying over from the full-size Range Rover is the Terrain Response 2. This system automatically detects the surface and adjusts as needed to keep you moving forward.
There's also new camera system to further help it off-road, or in tight city streets. Using what Land Rover calls Ground View Technology, cameras outside of the vehicle allow the driver to see 180-degrees around the front of the vehicle. By projecting an image of what's ahead on the upper section of the touchscreen, it's like the hood is missing altogether when the system is on. It's similar to a system the brand previewed in 2014. The rear-view mirror also doubles up as a reversing camera, if there's too much junk in the trunk to see out the back.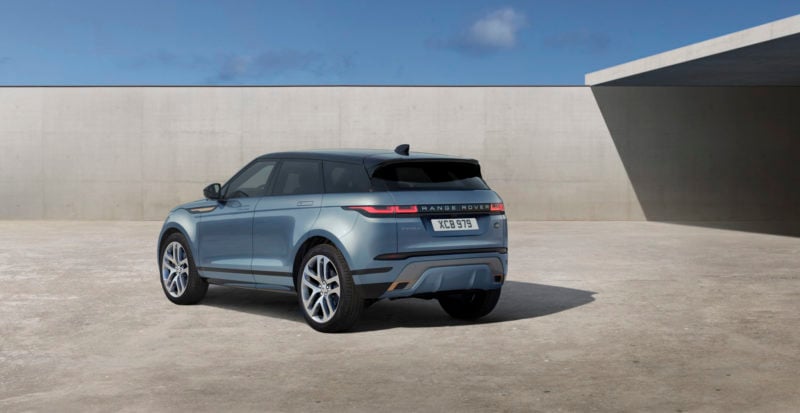 As for comforts in the new Evoque, it's standard Range Rover fare: there's comfortable seats, acres of leather, and larger infotainment screens. Although you will have to deal with fabric seats in the base trim, they are still eight-way adjustable and heated. The 10-, 14-, and 16-way power adjustable, heated, leather seats come in on S, SE and HSE trims. All Evoques get climate control, heated windscreen and washers, LED headlights, cruise control, DAB radio and a rear camera with parking assists.
One cool new feature is what Land Rover refers to as "Smart Settings". Using artificial intelligence and a series of algorithms, the Evoque learns about the driver's preferences. This includes things like music, climate control, and seating position. It then uses what it learns to tailor the Evoque to the driver for optimal comfort. Smart Settings is available from the S-grade and above.
Production of the new Evoque will start soon at the company's newly renovated plant in Halewood, UK. It will then hit showrooms in spring 2019.
Pricing for the Evoque starts at £31,600 ($40,690) for the FWD, five-speed, diesel version. The top of the range P300 variant will clock in at £40,350 ($52,000). For those looking for something a bit extra, you can also score a UK First Edition for £50,400 ($65,000).
See more articles on Land Rover.