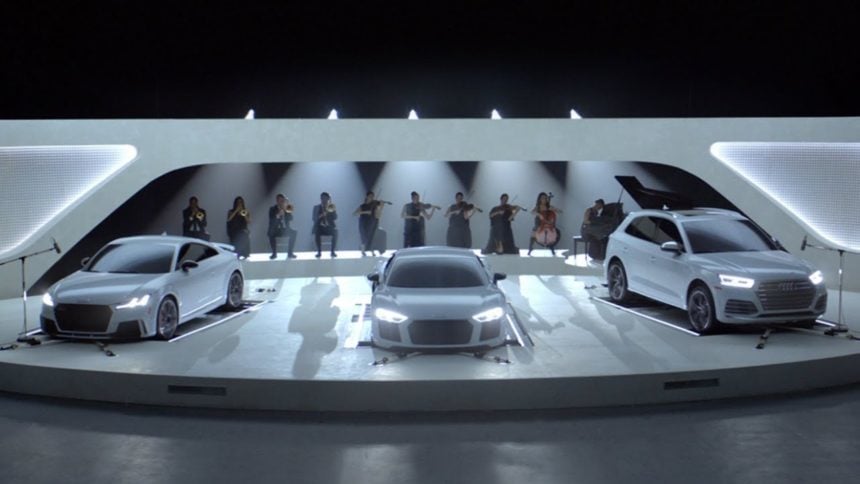 As gearheads, the roar of an engine is often music to our ears. We love everything from the whine of a high-strung I4 to the bellow of a meaty V10. Thankfully, Audi shares our sentiment and rolled out a musical rendition to some famous classic TV shows for the Emmy Awards.
Audi strapped three of its cars, all with distinct engine notes, to a dyno and fiddled with the revs to get just the right note. The TT RS with its 2.5-liter, 400hp I5 provided some of the bass and mid-range notes. Acting as a sort of backup singer, the SQ5 lent its 3.0-liter, 354hp V6 to the band. Finally, the 5.2-liter, 524hp V10 from the rev-happy R8 took the lead "vocals".
Since the ad campaign related to the Emmy Awards, all three theme songs were from famous past Emmy winners. The songs include the Star Trek theme Where No Man Has Gone Before, Where Everybody Knows Your Name from Cheers, and Love is All Around from the Mary Tyler Moore Show.
The Star Trek theme misses the mark just a bit when trying to capture the original track. It is a bit of a difficult song to pick out anyway, but it doesn't really seem to work very well with a smattering of engines.
The Cheers song is pretty easy to identify once it gets going. It's a much easier song to play since the original is mostly just a piano. However, this show about a bar from the 80s might be lost on younger members of the site, but some of you might remember the spin-off the came from the show, Frasier.
Finally, the Mary Tyler Moore Show — another probably lost on the younger audience. The 1970s show about a single 30-something isn't exactly something that resonates with today's crowd, though the Audi rendition captures the famous "you're going to make it after all" lyric pretty well.
Of course it's not the first time engines have been used as choristers. The Renault F1 team once taught its car to "sing" rather strangled versions of God Save the Queen and We Are the Champions…
More Posts On...