Logitech has just revealed the G PRO Racing Wheel, and it's a product I never thought it would actually make. The company has a long history of producing reliable, entry-level sim-racing hardware, but it has always ceded the higher-end of the market to companies like Thrustmaster and Fanatec. With this new direct-drive wheel, all of that changes in a pretty big way.
The G PRO Racing Wheel is priced at $999 USD and its accompanying G PRO Racing Pedals are sold separately for $349 USD, bringing the total cost of the package to $1,348 USD. [Editor's note: Regional pricing has changed since these products were announced.] It's available in two versions, one of which is compatible with the Xbox Series and Xbox One, the other with the PlayStation 4 and 5, and both models are, of course, also fully compatible with Windows PCs.
Logitech sent me the PlayStation model of the wheel and pedals to review ahead of their big reveal today, but this is not a sponsored post and my comments are completely uncensored. So, is it worth the price, and what does it feel like to use? Let's get to it…
Force Feedback
As you might expect at this price point, the G PRO Racing Wheel features a direct-drive motor that produces a rather impressive 11 Newton-meters of torque. By comparison, the classic Logitech G29 produced just over two Newton-meters, and the Fanatec Gran Turismo DD Pro — this wheel's most direct competitor — produces up to eight with its optional "Boost Kit" accessory.
With this kind of torque out of a direct-drive motor, the force-feedback is strong, smooth, and responsive. Although you are unlikely to use the wheel at its highest settings — trust me, I tried it! — it's nice to have such a wide, dynamic range of power to take advantage of.
What really makes this wheel stand out, though, is what Logitech calls its proprietary "TRUEFORCE Feedback Technology". "TRUEFORCE" feedback is essentially high-frequency vibrations which simulate the more delicate sensations of driving a car, such as tires scrubbing as you understeer through a corner or the vibrations of a rumble strip. There even seems to be a dimensional sense to these effects; for example, if you drive the car's left tires over a rumble strip, those vibrations will feel like they're coming from the left side of the wheel. It's very convincing and well-executed.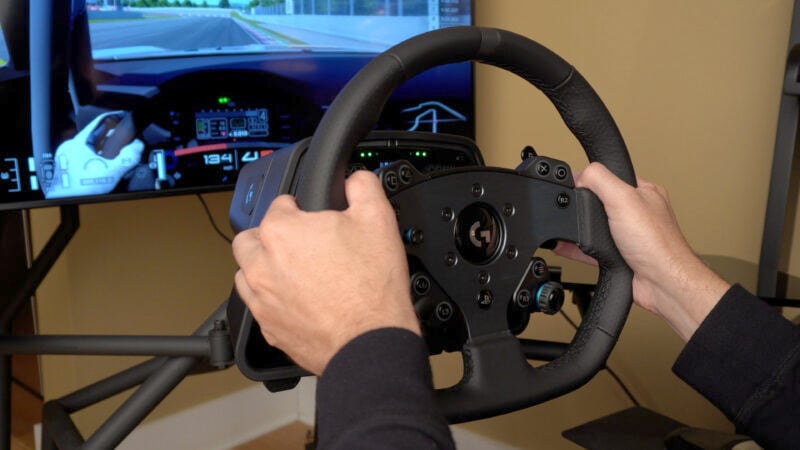 TrueForce technology actually debuted with the Logitech G923 back in 2020, but it didn't make too many waves at the time due to the fact that it was implemented in a wheel model that was essentially just a refresh of the older G29. With a direct-drive motor, the G PRO offers a range of sensations that even the most powerful direct-drive wheels can't really match. Even better, these higher-frequency vibrations are fully adjustable, so you can make them as intense or subtle as you like.
Of course, not all games are TrueForce compatible, but most popular titles do support the technology, including Gran Turismo 7, Assetto Corsa Competizione, and iRacing.
Gran Turismo 7, in particular, is completely transformed by TrueForce with the G PRO wheel. GT7 has been widely criticized for its lackluster force feedback. Even when using the officially-licensed Gran Turismo wheels from Thrustmaster and Fanatec, there was a distinct numbness and lack of detail that always left me wanting a bit more.
That all changes with the G PRO, which makes Gran Turismo 7 feel like an entirely different game. Rumble strips and curbs buzz to life, you can feel the edge of the track and the hidden undulations of the road surface, you can feel the engine vibrate the chassis more as RPMs increase, and you can enjoy a satisfying clunk as the transmission shifts gears. I've found myself revisiting many cars and tracks in the game just to see what they feel like with the G PRO.
With Assetto Corsa Competizione and iRacing, I did not see quite the same drastic jump in performance that I experienced with GT7, but the G PRO and TrueForce brings even more detail and immersion to these games which already have outstanding force-feedback.
Hands-On Impressions and Features
As you would expect at this price point, the packaging, materials, and build quality are all top-notch.
The star of the show is the wheel itself, which is leather-wrapped over a metal frame. It feels great to the touch, and with a gunmetal-gray finish and blue accents, it doesn't suffer from the "toy" look that often plagues console-compatible wheels. Another nice touch is the wheel's slightly larger diameter. Most sim-racing wheels are between 270 and 280mm, but the G PRO measures a comfortable 300mm in diameter.
The buttons are a smooth plastic with assertive tactile feedback. They are easily reached with your thumbs, but I would have preferred a different arrangement for the PlayStation buttons. They are placed along the top-edge of the wheel, with the all-important "X" button in perhaps the most awkward position of all.
Fortunately, the control stick on the wheel is a treat to use. It's snappy and quick: I actually feel like I can navigate through menus faster with this little thing than I can with a DualSense controller.
Another nice touch are the control knobs, which can be programmed to do a variety of different tasks in supported games. For example, in Gran Turismo 7, the knob on the left allows you to cycle through the game's Multi-Function Display to view things like the weather radar, track map, or your lap time splits, or to adjust Traction Control, Fuel Consumption, or Brake Balance while you're driving. Once selected, the knob on the right allows you to adjust those values as you wish.
The back of the wheel features metal, magnetic gear shift paddles and dual clutch paddles. The shift paddles offer a satisfying clack when you pull them, and the analog clutch paddles are smooth with a nice range of motion. The clutch paddles are also programmable, but we'll talk more about that in the next section.
Last but not least, the back of the wheel features an all-metal quick-release system that allows you to remove the rim from the base. Logitech has clearly put a lot of thought and engineering into this mechanism, and I can't help but speculate this suggests the company is planning a larger ecosystem with other wheel rims in the future.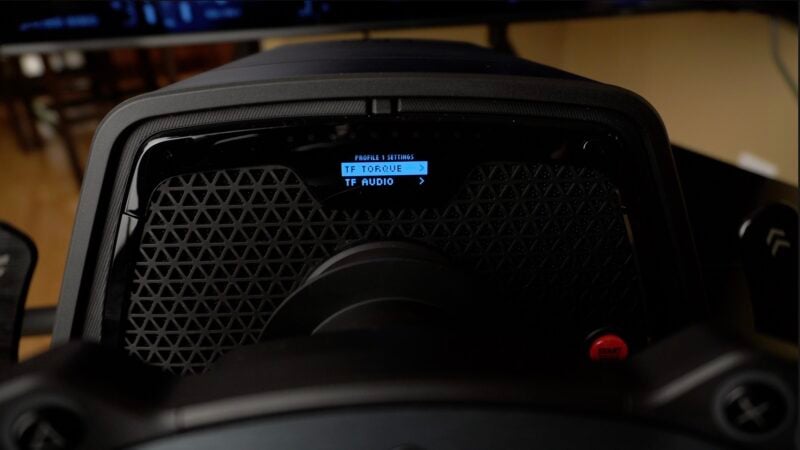 Customizable Settings
The base features a small OLED display which you can use to adjust the wheel's advanced settings.
To access the settings menu, you press a small button on the front of the wheel base, then turn the left knob to highlight the option you want to adjust. The knob itself also works like a button, so you press it in to select an option, then press it again to back out of it.
Five configuration profiles can be stored in the wheel's memory, so you can group settings for different cars or games and quickly switch between them.
One thing I'd like to mention here is that all of these settings can be adjusted on the fly, while you're playing the game. The fingers on your left hand naturally curl around to reach the left adjustment knob without taking your hand off the wheel, which makes it easy to see how the setting affects your experience in the game in real-time.
The "Compatibility" option is an important one as it allows for the wheel to work with games that might not yet have official support for the G PRO. Running the wheel in G923 mode is a practical workaround, and still allows all titles that support TrueForce feedback to pass through this proprietary data. You won't have the same degree of customization options while running in this mode, but it's a good work-around if you need it.
The Pedals
Finally, we have the G PRO Racing Pedals, which are sold separately and connect to the wheel base via USB.
The pedals look great and, on paper, seemingly have everything you'd want at this price point, including a load-cell brake sensor. They have a modular design, so you can move each pedal exactly where you want it, and you can reposition the face plates, too. Each pedal can also be made firmer or softer, by swapping out the springs in the gas and clutch or the elastomers inside the brake cylinder.
[Editor's note: The original version of this review stated that the pedals came with the stiffest attachments already inserted, but this was incorrect. The review has been updated from this point accordingly.]
The most important and interesting pedal of the three is the load cell brake. It can be made quite stiff with only 18mm of pedal travel, or soft with 41mm of travel. Out of the box, the pedals come configured at 33mm, which was not to my taste.
At this default, they feel much like a standard "positional pedal" from other brands, with rubber backing at the bottom of the pedal's travel. There is mainly positional input until you reach approximately 50% braking force, and from there you apply pressure input to reach 100%.
After some fiddling with the "Brake Force" setting in the wheel options, I eventually found something that made this workable. However, as someone used to a Fanatec load cell pedal kit, I still wasn't happy with it. Fortunately the pedals' configurability made it possible to get the stiffer feel I wanted with 18mm of travel.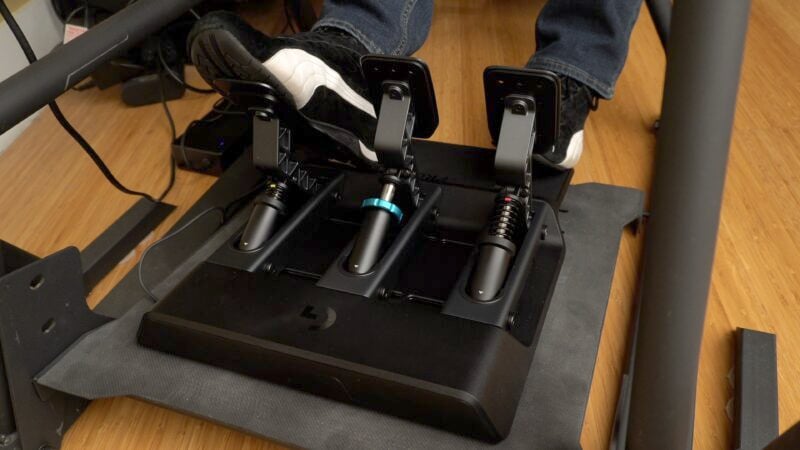 Even with the load cell configured to my liking, I can't place these pedals in quite the same class as Fanatec's CSL or ClubSport models. It's hard to put a finger (or should I say… toe?) on it, but they are just not as satisfying to use.
For PC-only users, you can easily combine wheel and pedal brands by simply plugging each accessory directly into the computer via USB. For console users, though, things get a lot more complicated, so for now you don't have any other practical options.
To be clear, the G PRO Racing Pedals aren't "bad" — I think it's simply a matter of perspective. If you're coming from a basic Logitech or Thrustmaster pedal set, you will likely be very impressed. But, if you're accustomed to something higher-end, you might be disappointed, especially for this amount of money.
Conclusion
Despite my disappointment with the pedals, the G PRO Wheel is so overwhelmingly good that I can't really go back to using anything else at this point. Even if we consider the more expensive high-end direct drive wheels on the market, they aren't going to feature the TrueForce effects, and they aren't going to offer plug-and-play compatibility with game consoles. In short, it's the best wheel I've ever used.
Looking at the G PRO wheel in the bigger picture, this is an extremely important product that you should be excited about, even if you don't plan on ever buying it. Competition breeds excellence, and as a consumer, it's good to see Logitech putting pressure on Thrustmaster and Fanatec in this segment of the market. The G PRO is so good it will force both companies to raise the bar in their next generation of products, and that makes it a really good time to be a sim-racer.
Logitech G PRO Racing Wheel and Pedals
The wheel sets a new standard and completely transforms games like Gran Turismo 7, but the pedals are disappointing at this price point.
Learn more about
how our rating system works
.
See more articles on Logitech.