McLaren has shown off its nearly finished new hybrid supercar, as it enters the final stages of its pre-production development and testing phase. The car, still wrapped in its testing camo, is a pretty major step for McLaren, as it represents a number of firsts — most notable of which is the brand's first full production hybrid.
While still un-named — McLaren refers to it as the High-Performance Hybrid, or HPH — the car will be the first McLaren to use hybrid power other than the limited run P1. Like the P1, it'll come with an unspecified "medium-range" driving capability using just the electric power. We'd expect a little more than the P1's 6-mile range — figure on 20-30 miles on a full charge.
The electric component is only half of the brand-new powertrain. In addition to the motor, the McLaren HPH will use a new V6 petrol engine. That replaces the V8, loosely based on a Nissan design, that McLaren has used in every car since its inception in 2010. Although McLaren has yet to confirm the performance figures for either power unit, we'd expect something in the region of 650hp in total, with 100-150hp of that coming from the electric motor.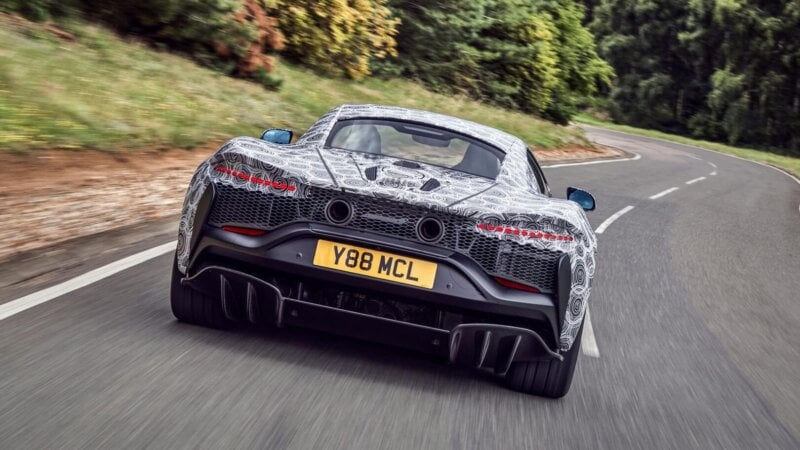 A further first is the car's chassis. HPH will use a new carbon fiber tub which goes by the name of "McLaren Carbon Lightweight Architecture" (MCLA). This replaces the "Monocell" used in the 540S-620R range of Sports Series McLarens, and will likely offset some of the weight gain from the electrical components of the hybrid.
MCLA will also be the first chassis entirely developed and built by McLaren in the UK. Whereas previous generations of McLaren have used a tub made in Austria, the MCLA is a product of the company's new £50m facility in Sheffield — which we visited in 2019.
Mike Flewitt, CEO of McLaren Automotive, comments:
"This all-new McLaren supercar is the distillation of everything we have done to date; all that we have learned and achieved. This is a new kind of McLaren for a new era, an extraordinary drivers' car that offers blistering performance as well as an all-electric range capable of covering most urban journeys. We see this new McLaren as a true 'next generation' supercar and cannot wait to show it to customers.

"For us, light-weighting and high-performance hybrid technology go hand-in-hand to achieve better performance as well as more efficient vehicles. Our expertise in lightweight composites and carbon fibre manufacturing, combined with our experience in cutting-edge battery technologies and high-performance hybrid propulsion systems, makes us ideally placed to deliver uncompromised levels of electrified high-performance driving that until now have simply been unattainable."
The HPH is in its final phase of testing, which includes vital UK road tests to ensure the car handles battered British road surfaces. After that it's due both a launch and a name in the first half of 2021, entering full production when the final examples of the McLaren 620R are complete.
See more articles on McLaren.