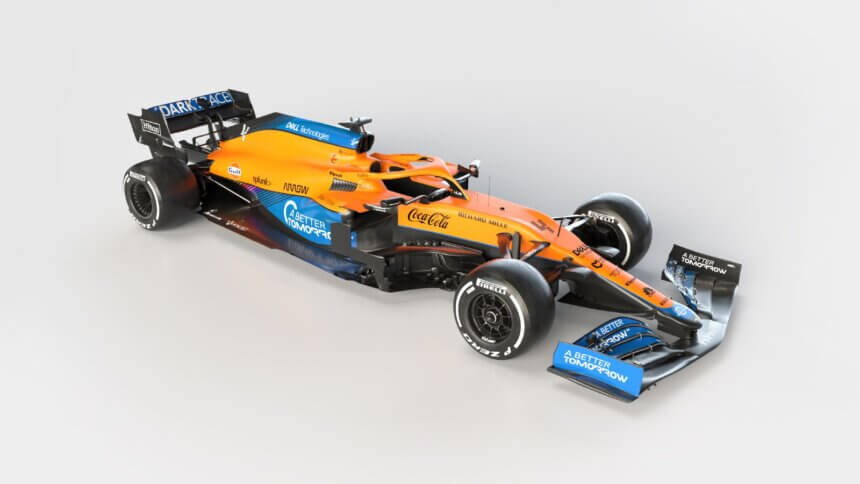 McLaren is the first of the 2021 season F1 manufacturers to reveal its car for the year ahead, in an unusual event held at the brand's headquarters in Woking, UK.
As you might spot from the similarity in the name, the MCL35M is a development of last year's MCL35 — a machine which lifted the team up to third in the overall standings for the first time since the 2012 MP4-27, as driven by Lewis Hamilton and Jenson Button. The relatively static regulations for 2021, in part caused by the serious disruption to the 2020 season, means that for most teams the cars will be upgraded versions of the 2020 cars. However McLaren has been forced into a far more significant change, which may result in the most fundamentally different car on the grid.
Unlike the 2020 season, when McLaren ran with Renault power, for 2021 the team will use Mercedes engines. On the one hand, that gives McLaren championship-winning power for the first time in seven seasons, but swapping engines is no simple task. McLaren, working with Mercedes High Performance Powertrains, has had to repackage much of the rear end to accommodate the new power train.
Of course the changes don't end there, and McLaren has developed the chassis and aerodynamics throughout last year and over the winter with the aim of bettering its 2020 championship position. That would mean becoming the main challengers to the dominant Mercedes-AMG team, and to that end McLaren has also seen a personnel change.
With Carlos Sainz switching to Ferrari for 2021, McLaren has recruiting the popular Australian driver Daniel Ricciardo from Renault. Ricciardo proved a revelation at Red Bull, and more than a match for four-time champion Sebastian Vettel, but the relationship seemed to sour in 2017-8 after Red Bull hired Max Verstappen. A high-profile collision between the two at Azerbaijan was the writing on the wall, and Ricciardo left for Renault. However, results did not go Renault's way over the last two seasons, with just two podium finishes to show for it.
Ricciardo will join Lando Norris driving the MCL35M for 2021, running cars #3 and #4 respectively, in what might be the most meme-worthy driver pairing on the grid. The duo will take to the track for the first time tomorrow, in a pre-season filming session at Silverstone. You can watch the whole unveiling program below:
McLaren is first up, but over the next few weeks we'll get to see all nine of the team's challengers. The unveiling schedule is as follows:
February 19 – AlphaTauri AT02
February 22 – Alfa Romeo C41
March 2 – Alpine A521
March 2 – Mercedes W12
March 3 – Aston Martin
March 5 – Williams FW34B
March 10 – Ferrari SF21
TBC – Haas VF-21
TBC – Red Bull RB16B
More Posts On...