We know what you're thinking: the Bugatti Chiron would be great if only it was a little sportier.
Well, it seems that Bugatti has read your mind. As part of its Geneva Motor Show presentation, Molsheim has revealed the Bugatti Chiron Sport.
Bugatti has focused on two key areas for the Chiron Sport: weight and handling. For the latter, it developed a new dynamic torque vectoring function. This system redirects torque across the car, improving the steering feel and response, particularly in tighter corners.
This pairs to a stiffer suspension system, including a new damper control system — active only in the "Handling Mode" — which Bugatti says reacts "10% more stiffly".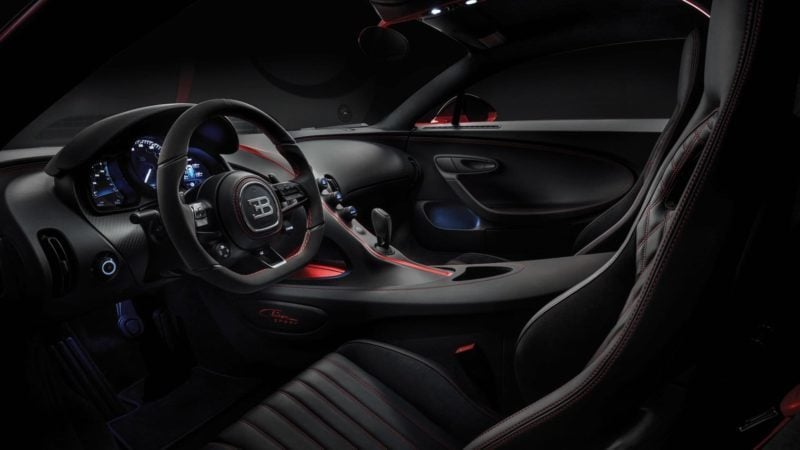 The Chiron has also been on a diet. Although still a luxury performance car, Bugatti has used lightweight materials where possible. This includes new, lighter alloy wheels and carbon fiber throughout.
There's carbon fiber in the stabilizer and intercooler cover. Bugatti fits a lighter exhaust deflector and uses lighter glass in the rear window. It also says it's the first manufacturer in the world to develop a carbon fiber windscreen wiper.
The net result of all these weight savings is 40lb. This doesn't seem like a huge amount in the context of a 4,150lb car, but it has a dramatic effect.
The Chiron Sport can lap the Nardo handling circuit five seconds faster than the original. This is all down to the weight and handling refinements too; the Chiron Sport has no more power than its sibling, with 1,479hp from the W16 engine.
Stephen Winkelmann, president of Bugatti Automobiles, says:
We have developed the Chiron Sport for customers wanting an even sportier driving experience with their Chiron, with improved lateral dynamics on winding roads. What was important for us was to leave unchanged the unique character of the Chiron; its combination of ultimate performance, longitudinal acceleration and maximum speed with luxury, comfort and everyday usability.

The Chiron Sport has become perceptibly more nimble and its new agility, especially in tight corners makes for a much more emotional experience for the driver on winding roads and handling circuits
To distinguish the Sport, Bugatti has created a raft of new color and trim options. The show car features a two-tone body, with visible grey carbon as the "A-color" and Italian Red for the "B-color". These colors feature on other trim pieces around the car.
All in, the show car would set you back $3.67m, with the Chiron Sport's base price set at $3.26m. You can place your order now, and Bugatti expects the first deliveries by the end of 2018.
More Posts On...