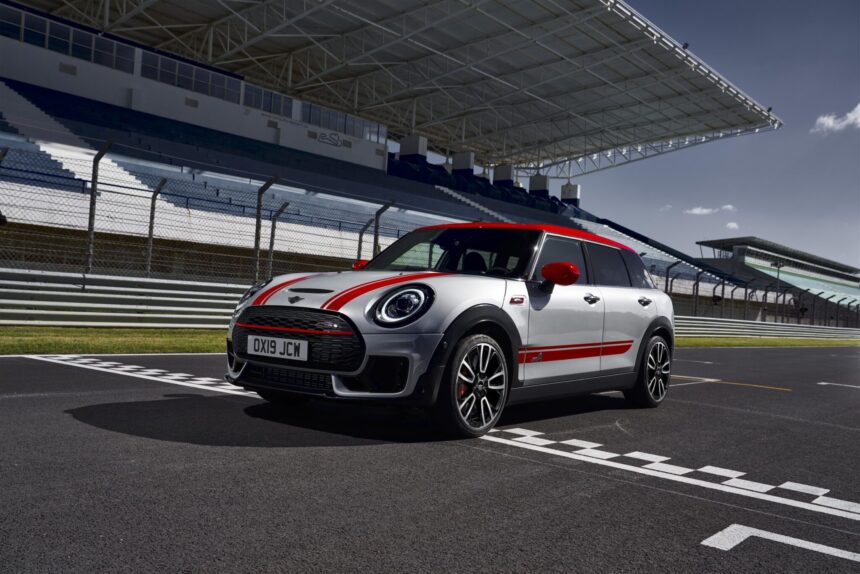 MINI has revealed its most powerful ever road cars and, surprisingly, they're an estate and a crossover.
The brand is making use of its halo "John Cooper Works" badging, which dates back to the rally days of the original Mini. John Cooper became synonymous with rapid road and rally Minis, and the modern JCW is no different.
We're still waiting for MINI's fastest ever car, the John Cooper Works GP, which is due next year. However, in the meantime, the brand has stuffed the new engine into the Clubman estate and Countryman crossover.
Each car now packs the latest version of the four-cylinder "TwinPower" turbo. This two-liter unit uses variable valve and camshaft control on both intake and exhaust. There's a new vibration damper and new cooling systems too.
The Clubman and Countryman JCW also gain a new sports exhaust system, which MINI says sounds "more reserved" at ordinary road speeds, but "dramatic" when pressing on. To meet the latest Euro emissions standards, there's a petrol particulate filter.
This all adds up to 306hp, and 332lbft of torque from 1,750-4,500rpm. By comparison with the old JCW versions of the two cars, that's a 75hp and 74lbft hike.
The new engine drives all four wheels through the standard ALL4 AWD system, via an eight-speed automatic sports gearbox. There's model-specific aspects to both, with a locking mechanical differential on the front wheels and vehicle systems optimized for driving dynamics.
All of the new greasy bits result in a pretty impressive boost to the performance figures. 60mph comes up in 4.9s for the heavier Countryman, while the Clubman makes it in 4.7s. That's a second and a half faster than the previous JCW models. For the first time in MINI's history, the cars are subject to BMW's standard 155mph speed limiter.
Both cars also get a new JCW sports brake system. This features four-pot rear brake calipers paired with 13-inch discs, while the front items come in at 14 inches. MINI fits 18-inch wheels as standard, with an optional upgrade to 19-inch versions.
Of course both cars feature a high specification interior too. There's a 6.5-inch touchscreen with navigation and real-time traffic as standard, and MINI will also fit the Comfort Pack for no extra cost. That includes parking sensors and assist, rear-view camera and seat heaters.
There's something of a price to pay for all of this though. The Clubman JCW comes in at £34,250, while the Countryman is £1,300 pricier still. Both are available to order from July 2019 in the UK and Europe.
More Posts On...