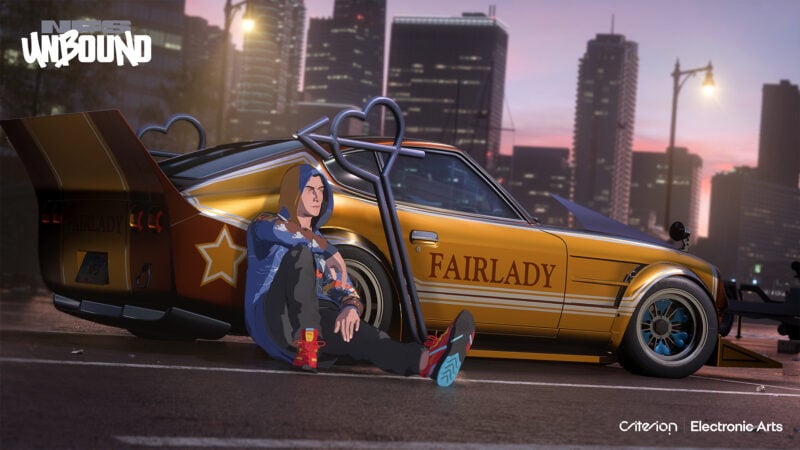 EA has released more information on Need for Speed Unbound ahead of its December 2 launch, this time detailing arguably one of the most important aspects of the game: car customization.
We've already seen some of the results of NFSU's customization options in previous teasers, but the new teasers delve into just how far you can go with it.
For a headline figure, EA states that there's more than 10,000 customization options for your car, spread across four different categories with some very surprising depth.
As you'll almost certainly expect, there's a whole host of wheels in the mix, including new items not seen in previous titles. There's also hundreds of decals in the "wrap editor" which include everything from basic shapes and lettering to complex design inspired by "the best in car culture" and "the freshest street art".
However NFSU goes much further than that, offering new body kits, "one-of-a-kind" parts to totally change the shape of your car, and even the ability to remove components to show off the structure and mechanicals beneath.
EA refers to "Legendary Customs" as "the most extreme expression of customization ever seen" in any NFS title, with wild new bodywork pieces to generate unique vehicles; the bosozoku-style 240Z at the top of the page looks to be one example.
It's the cutaways though that seem to be the most unusual feature of the vehicle customization options, with removable fenders and hoods — and we've even seen a roof removed in earlier videos and images — revealing the car beneath. There's a particularly wild example of a BMW M1 in the videos, which also sports a roof-mounted intercooler…
Of course that all combines with the new "Driving Effects" and "Tags", giving your car dynamic custom visual effects. According to the new information, that might include custom sounds too, "using audio Samples".
All in, it seems like NFSU will be delivering one of the most in-depth suites of vehicle customization options we've ever seen — and not just in a Need for Speed game.
You can see videos of car customization in the Tweet below, or on the official NFS Instagram. Need for Speed Unbound launches on December 2 on PC, PlayStation 5, and Xbox Series.