This guest contribution is by Bryan Heitkotter, 2011 United States GT Academy Champion. As the first US GTA graduate, Bryan has driven a wide variety of vehicles over the years, from the wild Juke-R to the GT3 GT-R. He's also shared the wheel with fellow GT Academy pupil Nick McMillen. Here, Bryan recounts his experience at the 2015 NISMO Festival.
I have heard that Japan is home to the most devoted, most enthusiastic motorsport fans in the world. My first glimpse of this was this past Saturday afternoon, when I saw a pair of cars already lined up at the Fuji Speedway gates in anticipation of the 2015 NISMO Festival opening to the public early the next morning.
Nissan invited me to experience this event first-hand, and that's not something to say "no" to! It was also my first time visiting Japan, so naturally I assumed the role of a typical Western tourist by taking photos of everything, pointing to food items on menus (I at least had some chopsticks experience going into this!), and surely butchering "arigatou gozaimasu!" a few times.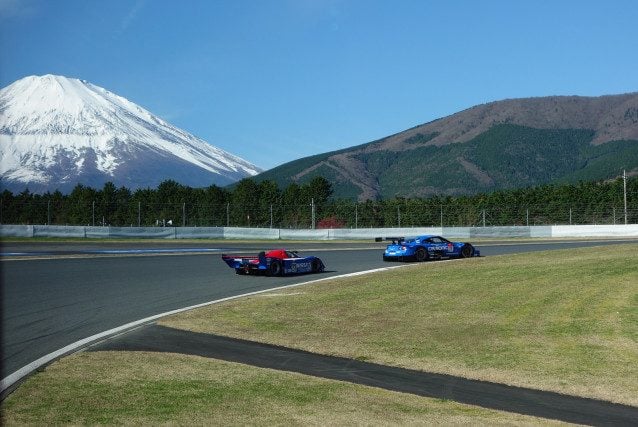 NISMO Festival is an annual celebration of all things NISMO Japan, with a focus on racing accomplishments throughout the years. Some of the most iconic Nissan race cars are not only brought out for people to see up close, they are driven at speed on the track by a cadre of Nissan racing drivers past and present. Championship winning cars from the just-completed racing season are given special treatment. More on that later.
Walking through some of the garages, you would swear Gran Turismo has come to life. All kinds of Nissan race cars showed off their bodywork in familiar colors. The only things missing were the lounge music and a DualShock controller to choose a car.  One of my personal all-time favorite prototypes is the R91CP, and I was lucky enough to get to sit in one!
Nissan had a full day of on-track activities scheduled. In the morning there was a GT-R one-make race (what they call spec racing in Japan) with mostly stock street cars.  A Z33/Z34 race happened a bit later, with a good battle for the win with several lead changes. That was fun to watch! This was a big field and it looked like there might have been two or three classes, looking at the various aerodynamic devices (or lack thereof) on the cars and the big spread in lap times first to last.  These, too, looked closer to street cars than race cars. I was going to check them out later up close but with so much going on I didn't get to that.
Then there was something really unique. They call it Circuit Safari. Tour buses drove around the track on one side while race cars flew by up close and personal. Some drivers slowed and waved to the bus riders before rocketing away. Others screamed by without slowing down.  There was a large variety of cars on track, too.  This was a great way to experience the speed of the cars and their beauty on track from a new and up close perspective.
I spent some time trackside during the historic car presentations and demo laps. This is when I really regretted not finding room to pack my DSLR and telephoto lens.
A large group of historic touring cars, including iconic Skylines, had a race. There's nothing quite like older touring cars with their high revving engines and propensity to slide around a bit. This looked like a total blast!
Oh, I almost forgot. I took the 2015 Blancpain Endurance Series drivers championship winning GT-R out for a few laps. You know, no big deal. Okay, I kid, that was awesome! Fuji Speedway in a GT3 car. 175mph braking for the downhill second-gear first turn. I could feel right away the braking and downforce improvements in the 2015 GT-R GT3 compared to the 2014 version that I raced this year in Pirelli World Challenge. Next year I'll have to come back and test drive a GT500 GT-R, don't you think? From trackside it was stunning to see how much faster GT500 is than GT3. The speed, downforce, and braking are on a completely different level. Watching a full SuperGT race in person must be quite something.
Speaking of which, the Nissan GT500s did have a race in the afternoon. They were joined by GT300 and GT3 GT-Rs, plus three Super Taikyu 370Zs for a 40 minute battle including a mandatory pit stop and driver swap.  I was watching the monitors from upstairs and felt very good when I noticed the lap times the GT3 cars were running, knowing what I had done earlier. I actually don't remember which car won the race. I had gone down to a garage prior to the race ending to get in line to be ready for the grand finale event of the evening.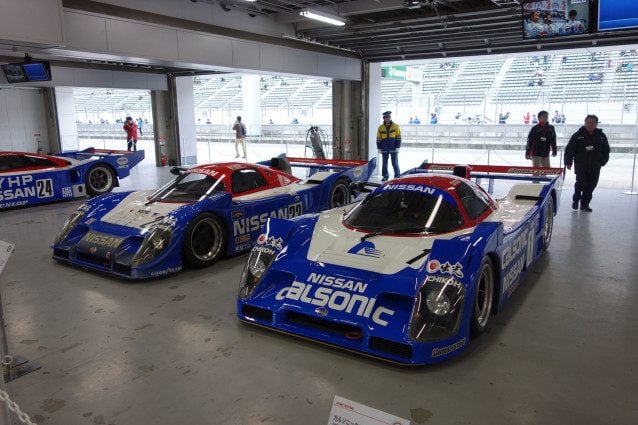 There was plenty to do and see all day in the paddock, too. Vendors had tuner cars on display along with parts new and used for sale. I didn't have enough yen on hand for a big brake kit for my 350Z, plus they wouldn't fit in my carry-on anyway, but it was fun to window shop! Other vendors specialized in scale models or apparel. There was a stage where events and people were introduced (you may have seen this on the live stream), and later a band set up there to entertain the crowd between on-track events. People could sign up to get a passenger ride in a race car at speed. And it wasn't just one or two cars – several of them had passenger seats being used to provide thrills and memorable experiences. In one of the parking lots, owners of street cars could park next to a racing version of that car and take pictures of them together. It was a family-friendly event, too.  Children could sit in a few different race cars and have their picture taken. There were small go-karts and radio controlled cars to play with. Basically, fans of all ages had incredible access at NISMO Festival.  I'm sure I missed a thing or two.
The grand finale was something especially special (bonus points from me if you get this reference). Red carpet was rolled out on the main straight. Fans assembled towards the center of the grand stand to get closer. Among a backdrop of Nissan racing cars from throughout the years, the championship winning cars from this year were placed center stage. For each championship, the drivers and team principal received a few moments of recognition and those who spoke Japanese were given a minute to speak to the audience. By this time the sun had gone down and so did the temperature. Personally I was shivering in my jacket. But nobody left. A couple of important people within Nissan/NISMO gave a short speech and thanked the people for their support. Then all of the drivers and team principals joined together on the red carpet for a final "thank you" and send off. The throng of fans in the main grandstand enthusiastically waved their flags and chanted "NISSAN! NISSAN! NISSAN!" for minutes, not seconds, as the team members waved in appreciation. And then, suddenly, it was over.
I can't think of a better way for a car company to celebrate racing success and history with its fans. I had heard Japanese fans were the best, and now I've seen it first hand. Amazing. How special it must be to race in front of them!
See more articles on Bryan Heitkotter.