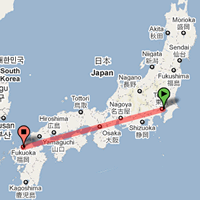 Well, this was certainly unexpected: Japanese news outlets are reporting that Polyphony Digital will be moving 50 of the company's 150 employees more than 500 miles away, from Tokyo to Fukuoka, Japan. Apparently, the trauma Tokyo suffered during the Japan's major earthquake earlier this year has prompted the move (Fukuoka is located in the western end of Japan, which generally sees less seismic activity compared to other parts of the country).
Fukuoka is already home to many other game developers, and the city is actively pursuing more companies to relocate there.
News reports only describe the employees as "engineers", so, as usual with Polyphony Digital, we can only speculate what they are responsible for. However, the company actually opened separate offices in Tokyo some time ago dedicated to developing and managing Gran Turismo 5's online components. Considering this team already operates outside Polyphony's main headquarters, they may be the ones to be relocated.
Thanks to all of you who sent this in!
More Posts On...
The original comments for this post are no longer available.