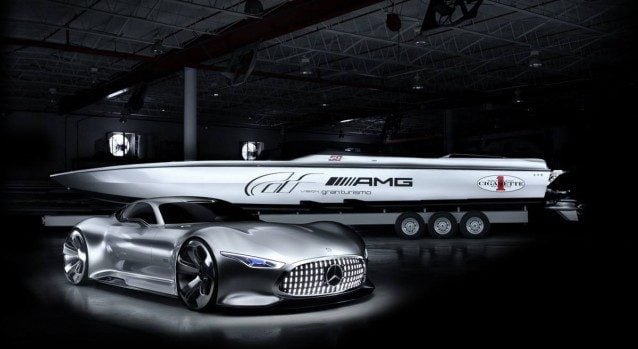 As rumours increase of Polyphony Digital showing something big at E3 this summer, gamers could be in for a big surprise as it seems that the studio might be set to reveal a racing sim set in the world of offshore powerboat racing.
Pushing this twist to GTPlanet's attention are comments attributed to Vasso Pindarilo of powerboating's governing body UIM (Union Internationale Motonautique). He suggested to Monegasque newspaper Blague Évident that members of the Polyphony Digital team had been industriously photographing the machinery at the Class 1 event in Terracina in October.
Rumoured to have been initially developed under the working title "Gran Turismo for Buoys", the new game is supposedly to be released as "Coupe d'Or", presumably named for one of the oldest events in powerboat racing.
Improbable as it may seem, this title might not come as much of a surprise to Gran Turismo gamers at all. After meeting with critical success when it turned its hand to two-wheel racing, Polyphony's will to digitise more forms of racing is self-evident. The Vision GT program for GT6 has already given birth to a speedboat in 2014, something that seemed rather implausible at the time.
Long-term Gran Turismo players will note that a great many of the series' original circuits host large bodies of water – notably High Speed Ring and Grand Valley – with many of the recent additions and upgrades following suit. The PD team reportedly spent hundreds of hours to achieve faithful water effects at Special Stage Route X under the direction of their new fluid dynamics expert Shiga Tsubaka, setting the groundwork for the realistic behaviour of the boats as they cut through the water – or even skim the surface – at high speeds.
Few in the gaming community will have been anticipating this development, but with E3 fast approaching it stands to be one of the most interesting shows in years.
The original comments for this post are no longer available.