Porsche has revealed its new, third generation of Cayenne SUV, although you might not know it at first glance.
The exterior design, says Porsche, is "new and yet familiar". We'll agree on the familiar front; the new Cayenne has larger air intakes and slightly redesigned headlight edges, and that's about it.
It's more obvious around the back, where Porsche has installed an adaptation of the 911 991.2 rear light arrangement. The car is also 2.5 inches longer and 0.4 inches lower to the roof, but otherwise you may struggle to tell it apart from its predecessor.
Fortunately, the differences under the skin are a little more extensive.
For a start, the Cayenne has lost a bit of weight. It's now nearly 350 pounds lighter than before, thanks to an all-aluminum body and extensive use of alloys. This means that even the entry-level car, a 335hp, three-liter, six-cylinder petrol, can hit 60mph in six seconds. The 434hp, twin-turbo Cayenne S is a second quicker, and will top out at 165mph. Porsche pairs both engines with an eight-speed Tiptronic gearbox, driving all four wheels.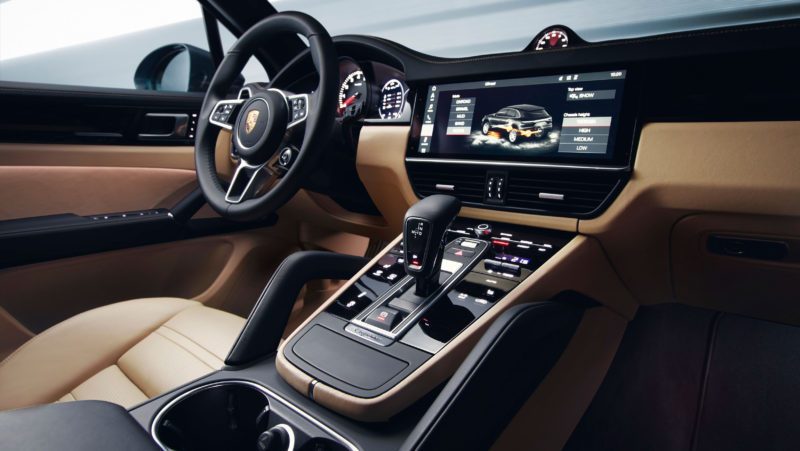 To haul it to a stop, Porsche now offers a "surface coated brake". This is a tungsten carbide coating over a regular cast-iron disc, which increases friction and reduces wear. It's an option on all Cayenne models, and provides a step between ordinary discs and the top-of-the-range carbon ceramic units.
This third generation car is available with electric rear-axle steering for the first time. This makes the car more stable when changing lanes at speed, while improving agility and the turning circle at low speeds. Optional adaptive air suspension is also available and allows for a configurable ride quality and height adjustment over rough ground.
Porsche has also extended the standard specification. All models now include LED main headlights, larger wheels with staggered sizes front to rear, Porsche Connect services with 4G telephone connection and a WiFi hotspot, and front and rear parking sensors.
Of course a Cayenne wouldn't be a Cayenne without a huge options list, and customers can look forward to an in-depth configurator. Additional sound systems from Bose and Burmester are available, along with dynamic headlights, night vision and a heating system you can operate from your smart phone.
Depending on market, you can order the new Cayenne now, with prices starting at €74,828 in its home nation.
See more articles on Porsche.