When it comes to factory personalization, not much comes close to Rolls-Royce. The Goodwood-based car manufacturer doesn't believe in tick-box options lists. Instead it creates its cars specifically for its customers on a case-by-case basis, and with almost no limit on possibilities.
2018 proved to be a record year for what Rolls-Royce calls its "Bespoke division". The brand saw an unprecedented demand for its creations, and it's taken this opportunity to show off some of the amazing customer requests over the year.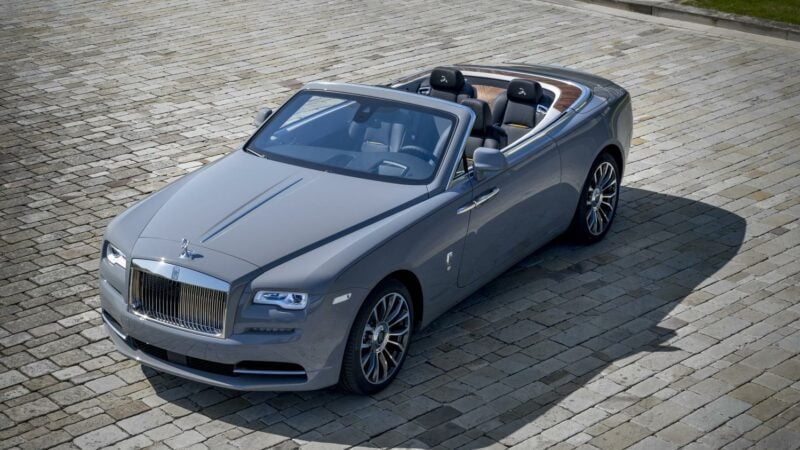 One Dawn celebrates the contributions of Czech and Slovak airmen during the Battle of Britain. The car's colors — gray paintwork with a black coach line — recognize the liveries of the squadrons' Spitfires. Each door sports a squadron motto on the inside, with "Jeden Jestráb Mnoho Vran Rozhání" ("One hawk chases away many crows") on the driver side and "Non Multi Sed Multa" ("Not many, but much") on the passenger side.
Artwork within the car includes the 312th and 313th squadron badges embroidered on the headrests. There's also an embroidered Rolls-Royce Merlin engine, drawn from technical blueprints, between the rear seats.
One of the more famous bespoke Rolls-Royces is a Phantom belonging to Michael Fux. Fux is a well-known car collector, with over 140 cars that he uses to raise money for his charity supporting Miami Children's Hospital. The bespoke division painted the Phantom in a unique color that Fux himself owns exclusive rights to: Fux Intense Fuxia Pearl.
The interior gets more Fuxia treatment, along with white leather. Rolls-Royce delivered the car to Fux at Monterey Car Week, joining his Fuxia Dawn from Pebble Beach in 2017. He has another nine custom Rolls-Royce cars aside from these.
Other highlights of the Rolls-Royce craftsmen include a ruthenium-trimmed gallery from the Phantom "Gentleman's Tourer". The gallery is the company's own term for the area of dashboard ahead of the passenger, and for this particular car it's made this section from a metal so rare and expensive you can only find it as a trace byproduct of platinum mining.
The Adamas cars — 40 Wraiths and 30 Dawns — feature carbon fiber woven into key areas of the car. Even the Spirit of Ecstasy is carbon fiber, and there's black diamonds in the dashboard clock, just to keep the dark theme.
Another custom Rolls-Royce that goes heavy on the carbon is the Dawn with Aero Cowling. This carbon fiber and aluminum cover fixes over the rear seats to create a two-seat car reminiscent of a powerboat. However, the owner can remove it to use all four seats if they choose.
You can see a gallery below of some of Rolls-Royce's creations from 2018. And the price? Well, if you have to ask…
See more articles on Rolls-Royce.
More on Automotive News