Singer took the wraps off what might be one of the prettiest Porsche 911s to ever hit the pavement.
For those who've never heard of Singer, it's a California-based company that restores classic Porsche 911s. It often adds several modern touches, as well as thoughtful remixes of details from across the 911 timeline.
This is why when customer Scott Blattner wanted a truly unique 911, he knew just where to go.
Starting life as a 1990 Porsche 911 964, the car lost most of its OEM parts to become a blank canvas. From there Singer added some classic parts to give the car a unique look while still keeping the traditional shape. The front bumper, hood, and turn signals all come from other cars.
After the backdating of the car, Singer then added its own touches with a ducktail spoiler, ground effects, rear diffuser, and some beefy looking fender flares.
Venturing inside the Singer there's loads of blood orange leather and a funky retro-modern design. It's sort of what someone from the 1970s thought cars would look like in 2017. It's weird, but it works on so many levels.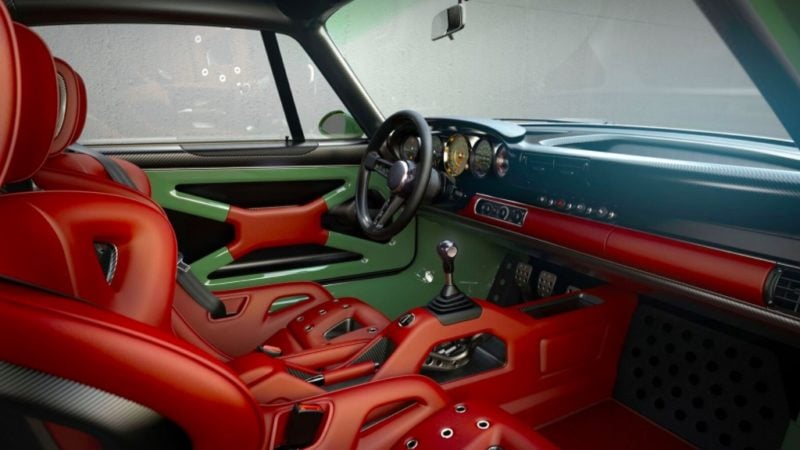 The blood orange color carries over to the exterior as well. Complementing the green color — "Absinthe" — perfectly, it really caps off the retro look.
The Fuchs style wheels came by way of commission from BBS, which adds to the retro-ness. However, the tires are as modern as they get with special Michelin Pilot Sport Cup 2 rubber.
Those weren't the only bespoke pieces for the car either. Brembo supplied a set of lightweight monoblock calipers and carbon composite rotors. From Hewland came a magnesium six-speed transmission. Finally a complete EXE-TC competition suspension rounds out the package.
However, the crown jewel of the car is the engine.
Working with Williams of Formula 1 fame, Singer took a 4.0-liter flat six engine and developed an absolute monster. Turning out 500 horsepower with a redline of 9000rpm it will scream when Blattner puts his foot down. The best part? Williams still retained the air-cooled properties of the 911.
Couple the GT3 RS-matching power with a featherweight 2,180lb curb weight and the performance is out of this world.
Unfortunately, Singer didn't release any performance figures. Considering the power-to-weight ratio of the car though, a three-second 0-60 time is possible.
Since Blattner was so enthused about his car, he's decided to work with Singer to make the package available for 75 more 911 cars.
We have no idea how much the package will cost but with all the one-off, commissioned parts on the car, it can't be cheap. For a lover of the classic 911 that wants something truly unique, it will surely be worth the price.
We look forward to seeing what some of the other cars coming out of Singer looks like once customers start ordering them.
More Posts On...