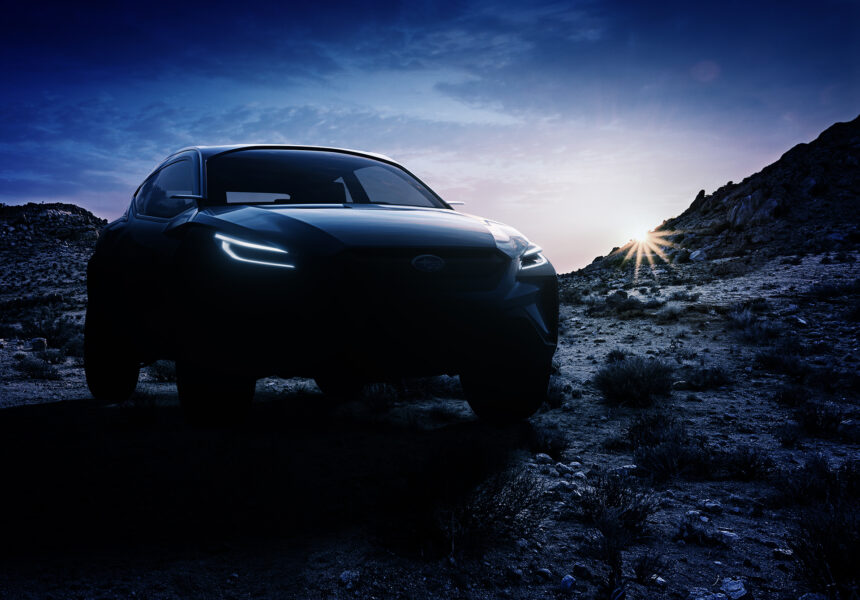 With only a few weeks until it starts, manufacturers are beginning to show their hands for the Geneva Motor Show next month. The latest comes from Subaru, in the form of this, the Viziv Adrenaline Concept.
It's the latest in a long-running line of concepts under the Viziv (short for "Vision for Innovation") moniker. Many of these have signalled future production models, and if we had to guess, that's the same job the Adrenaline Concept has.
The shadowy teaser doesn't give away much, though the small crossover looks to be a three-door hatch. There's a significant amount of ground clearance too. The swoopy styling, including the heavily three-dimensional headlights, plus Subaru's traditional symmetrical all-wheel-drive system, lends the Adrenaline a sort of pint-size Lambo Urus vibe. The name itself suggests this will be a high-performance concept, though Subaru is keeping mum on any firm details.
Other details in the image include typical concept features like slim-line cameras in place of side mirrors and huge rolling stock. One of the visible unique styling features is a highly curved windshield top edge, unlike anything currently in production at Subaru.
A new WRX is expected in the near future, based off the current Impreza platform, which debuted in 2017. The Adrenaline could signpost Subaru's plans for the model — a move back to the hatch layout — or a new model entirely. The performance crossover and coupe-crossover markets are both hotbeds of activity.
We'll find out soon enough, as Geneva opens to media March 5. Subaru will be hosting its press briefing in Switzerland at 1045 CET that day, so stay tuned for more on the Adrenaline then.
More Posts On...