It's been a very long time indeed since we last heard anything from KT Racing about Test Drive Unlimited Solar Crown, but the studio has launched a new monthly newsletter to keep fans updated on the game as it heads towards launch.
The last we heard of TDUSC was a new trailer during the July 2022 Nacon Connect stream, which reconfirmed the delayed 2023 launch window — and noted that last-gen console support was no longer in the plans.
Eight months on it's been pretty quiet, but KT Racing is looking to re-engage fans with what it calls the "Solar Club Letter": a monthly newsletter designed to reveal more about the game's development and details. That will include gameplay, live game sessions with the developers, and testing phase information.
The first thing we need to note is that there's no hint of a release date yet. Concerningly the studio remarks that the newsletter will keep fans "up to date on everything happening with TDUSC this year", which could hint that the title has slipped to early 2024. We'd not expect it until Q4 2023 even with our optimism hat on.
For the positives though, the first letter focuses on buying, tuning, and customizing the vehicles of TDUSC, as you try to rise up the ranks of the Sharps or the Streets in Hong Kong.
There's 14 "specialist" dealerships, each in real locations around TDUSC's recreation of the island and offering a range of models from different brands. The newsletter suggests that these may be themed stock lists, such as supercars, GT cars, off-roaders, or even split on nationality lines.
In addition there's two specific dealers that only deal in a single marque. These are dedicated solely to the Ferrari and Lamborghini models in the game.
Within the dealer you'll be able to move around freely — suggesting the player can control their character directly as with TDU2 — to look at and interact with the cars. That actually takes place in an online setting too, so you'll be able to interact and socialize with other players, and even join in co-operative play from these "social hubs".
Of course we're here for the cars. You'll be able to get in, start the engine, and try the horn, and test drive (well, it is literally the name of the game) before you buy. Before being handed the keys though, you'll need to personalize the car in terms of paint, wheels, and its interior, according to official manufacturer options for each vehicle.
That's just the start though, as once you own the car you can take it to one of the Solar Crown Workshops for some modifications, upgrades, and customization.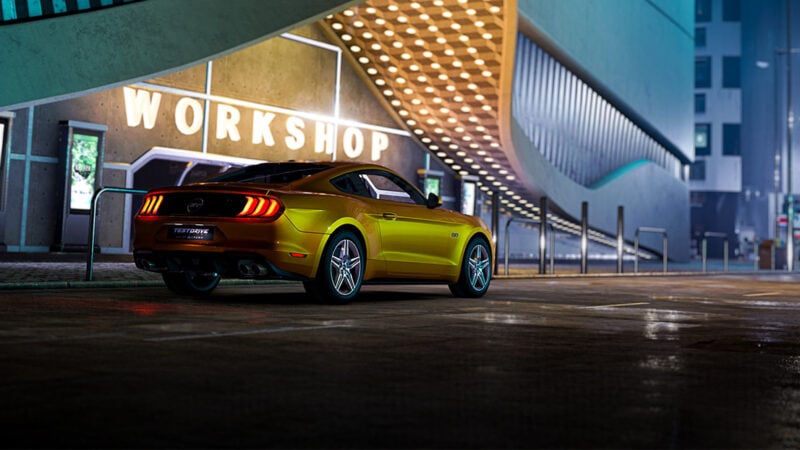 Each of six different categories of vehicle performance is available for modification, with suspension, gearbox, and engine cited in the newsletter — and we'd assume tires, brakes, and aero for the other three. Interestingly there's 13 different parts available for cars with internal combustion engines and 12 for electric vehicles…
To simplify matters, the components are rated for power, traction, acceleration, and braking, so you can fit parts that suit what you want from your car without having to have too much technical knowledge or information thrown at you — though what you can fit may depend on your player level.
There's also extensive esthetic modifications too, with different vehicle colors, paint types — including chrome, matt, metallic, and pearlescent — and stickers and decals to create your own look. In addition, each of the two clans has specific car customization options open to them, tied to your "reputation" level with your chosen group.
The Workshops also offer the same social features as the Showrooms, allowing players to look at each others' cars and chat about tuning options and strategies.
We're expecting another newsletter to drop in early April, so watch this space!
See more articles on Test Drive Unlimited Solar Crown.