With so much attention poured over graphics and sound design, it's easy to overlook the role music plays in a game's presentation. In Gran Turismo's case, music has always been a key part of the experience, and Polyphony Digital clearly sought to establish a unique sonic aesthetic for the series from the very beginning.
Of course, it's no secret that Gran Turismo was somewhat of an anomaly among racing games when it launched back in 1997. With a litany of off-track activities to get sucked away in and an RPG-like system of progression, it was a foregone conclusion that players would spend an inordinate amount of their time in the menus, rather than behind the wheel. This highlighted a need for a large, versatile soundtrack that transcended typical driving tunes, and would serve as a backdrop for everything from tweaking gear ratios to browsing the game's unprecedented roster of cars.
What's more, each manufacturer was given its own virtual showroom of sorts, a space containing promotional photography alongside literature about (almost) every vehicle in the game. Polyphony capitalized on the opportunity to make each dealership feel truly different by giving them unique theme music, a novel approach to real-world branding in a video game.
Further entries in the franchise would switch up the formula a little bit, but the focus on music never diminished, and quickly became another facet that differentiated GT from its contemporaries in the minds of players. Ask anyone who's at least dabbled in the series, and chances are they'll have something to say, good or bad, about the soundtrack.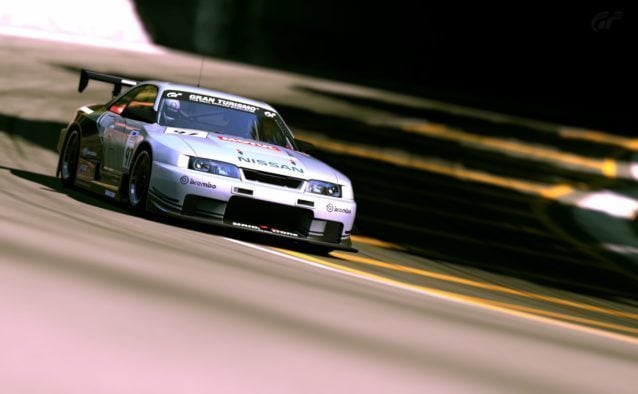 One person's relaxing lounge jazz is another's elevator music, of course. But you can't fault composers Isamu Ohira and Masahiro Andoh, who scored the PS1 and PS2 entries, for failing to settle on an idea. The American and European releases of the first Gran Turismo swapped out Ohira and Andoh's eclectic-but-mellow mix for industrial electronic courtesy of Sony Computer Entertainment Europe's Jason Page. From Gran Turismo 2 on, the Japanese-developed soundtrack would be featured in all regions.
Interestingly, both Ohira and Andoh's foray into video game composing pretty much starts and ends with the Real Driving Simulator. Andoh arrived at GT by way of Japaneze jazz fusion collective T-Square, and his band's song "Truth" has played over the intro of Fuji Television Formula 1 broadcasts nearly every year since 1989.
And obviously no retrospective on Gran Turismo's musical past is complete without mentioning Daiki Kasho. Kasho made his entrance with Gran Turismo 3, and has also worked on Wangan Midnight, F-Zero, King of Fighters and Polyphony's only non-racer, Omega Boost. His blend of rock and dance has defined the in-race entertainment in every one of Polyphony's offerings since, with "5OUL ON D!SPLAY" and "All My Life" notably serving as the intro music for Gran Turismo 5 and 6, respectively.
The contributions of these musicians have become iconic among fans of the franchise, and some of their songs – dating back twenty years at this point – are regularly featured or remixed for inclusion in the newest iterations. Leading that list (unsurprisingly) is Andoh's "Moon Over the Castle," the closest thing GT has ever had to an official theme. But there have been so many other unforgettable songs over the last two decades, and here are just a handful of our favorites.
5OUL ON D!SPLAY / Daiki Kasho
Debuted in: Gran Turismo 5
If there's one song that can rival "Moon Over the Castle" in popularity among Gran Turismo fans, it'd probably have to be "5OUL ON D!SPLAY." Kasho continued his collaboration with vocalist Jonathan Underdown of the band Fade for this track, which premiered nameless in GT5's E3 2010 trailer. Underdown previously sang on "SURV1V3" and "Edge of the World" from Gran Turismo 5 Prologue. His performances marked a tonal shift toward alternative rock for Kasho, whose previous work in the series was firmly rooted in electronica and dance.
Polyphony held a contest shortly after the trailer's reveal, asking fans to name the song. By popular demand, it would return to replace My Chemical Romance's "Planetary (Go!)" in GT5's intro following the Spec II update.
Slipstream / Isamu Ohira
Debut: Gran Turismo 3: A-Spec
For many players, Ohira's Arcade Mode theme was the very first song they ever heard in GT3. It's to the game's benefit, then, that "Slipstream" started things off with a bang. As Polyphony's first endeavor on the much-hyped PlayStation 2, the franchise was riding a wave of excitement into the next generation. And although it may seem silly now, the sub-two year turnaround between A-Spec and its predecessor felt like and awfully long time back then.
The lead up, then release of GT3 still stands as one of the most exciting points in the series' history, and "Slipstream," with its fast and fluid guitar, funky piano noodling and bombastic horns, was the perfect soundtrack to ring in the new era. It felt like a celebration, as well as an excellent musical complement to GT3's elegant Arcade interface. Those full-screen videos were the epitome of cool 15 years ago.
Race Summary / Jason Page
Debut: Gran Turismo (American and European versions)
Page was given just two weeks to entirely replace Ohira and Andoh's score for GT1, which SCEE believed wouldn't go over well with a western audience. The result was a grittier soundtrack that ultimately shared much more in common with another early-PlayStation mainstay, Wipeout, than the sim racer's typical jazz. And this example, which played over the post-race summary screen, is one of our favorites in the collection.
Musical changes in localization were fairly common in the industry back then, and it's strange to think the songs that trigger our fondest memories of that unforgettable first game are completely different in other parts of the world. For American and European audiences, the big beat sound that was so prevalent throughout the '90s, from acts like Prodigy, The Chemical Brothers and Boom Boom Satellites, also came to briefly define Gran Turismo. Page did not return for GT2, and the sequel would reuse many songs from the Japanese version of GT1 that western players never got to hear.
Sky Scraper / Daiki Kasho
Debut: Gran Turismo 3: A-Spec
Kasho contributed "Sky Scraper" alongside four other pieces to GT3's soundtrack, which marked his beginning in the franchise. These songs are characterized as a fusion of drum and bass as well as rock, lack vocals and sound generally darker and more aggressive than anything he'd produce afterwards. But there is something memorable and infectious about "Sky Scraper's" undulating pitch-shifted guitar riff that gets our blood pumping.
Time Is Changing / Makoto
Debut: Gran Turismo 5
GT5 and 6 expanded the soundtrack to comically massive proportions, while giving users the ability to substitute their own tunes in as well. While the selection has ventured into a grab bag of genres aimed to please any listener, the lounge category has given rise to some excellent background music, including this track from Makoto.
Regardless of what you think of Gran Turismo's listening choices today, there are few games (and fewer racing games still) consistently pumping out this kind of cool, relaxing electronica. The series has very much carved an identity out of this sound, lending it a sense of style and classiness its competitors have never quite been able to match.
And, for an added bonus…
Light Velocity / Materia (originally performed by Isamu Ohira)
Debut: Gran Turismo 3: A-Spec
Fans remember Ohira's "Light Velocity" from GT3's manufacturer select screen, with a remixed version appearing in GT4's Arcade Mode. In November, jazz fusion band Materia and video game music collective OverClocked Remix unveiled a performance of the song for New Game+, an album featuring tributes to some of the artists' favorite songs in gaming. The nearly seven minute-long arrangement expands upon Ohira's work in a way that would surely make the composer proud. New Game+ is streaming on Spotify and available for sale at OverClocked Records.
With the size of GT's soundtrack, it was impossible to give all of our favorites their due. What are some of your favorite tunes? Let us know in the comments!
See more articles on music.