After a couple of months of teasing, Thrustmaster has unveiled its new steering wheel. It's called the "Formula Wheel Add-On Ferrari SF1000 Edition", and it is a 1:1 replica of the steering wheel you'll find in the 2020-season Ferrari SF1000 Formula One car, built to celebrate the brand's 1000th grand prix.
This wheel marks the second time that Thrustmaster has made a replica of a Ferrari F1 car's steering wheel, but unlike that largely decorative 2011 model, this unit is fully functional. There's more than 20 different buttons, switches, toggles, and dials for players to set up, replicating the functions of the real wheel.
The SF1000 wheel's faceplate is a 3mm thick piece of carbon fiber, and features a large, 4.3-inch display in the center. This can display up to 69 pieces of information, and can do so in different skins depending on the game you're playing or car you're driving. At launch, the wheel will be able to display all of the detail from F1 2020 on PC, and PlayStation 4 and 5 — Xbox users will need to set the wheel up through the Thrustmaster TM Connect software on PC.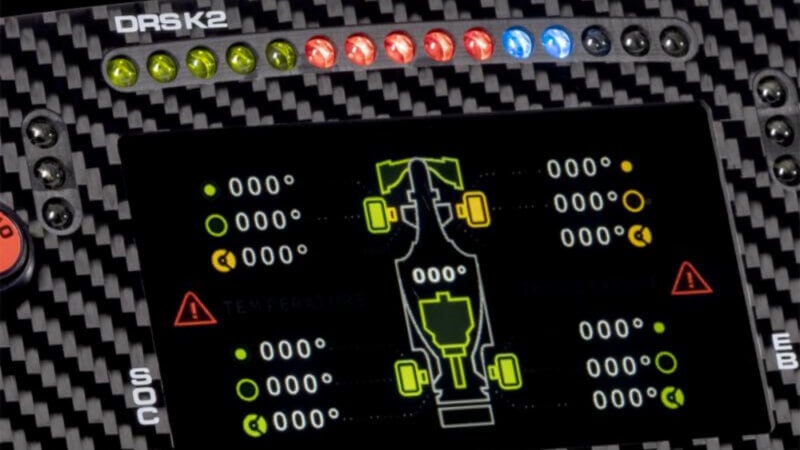 In addition to the display there's an array of 21 LEDs. Six of these appear in two groups of three either side of the display, to show current applicable marshal flags, with the remaining 15 in a sweep across the top to display engine speed.
There's 11 push buttons on the wheel, each with a "firm" action to prevent players from pressing them in error. As standard they bear the same labeling as you'd find on the real SF1000's wheel, but their functions are user-configurable. You'll also find seven rotary encoders, including two thumbwheels inside the spokes; we count eight in the images, so we'd assume the center, Ferrari-badged dial is for decoration only. These too are configurable.
One new feature comes on the rear of the wheel. The standard item has push-pull magnetic shifters made from aluminum, but users can swap these out for new Thrustmaster T-Chrono paddles. These will be available as a separate accessory and promise quicker, smoother shifting.
The wheel is fully compatible with all Thrustmaster T-Series bases other than the T500RS, so players who already have TS-PC Racer, T-GT Servo Base, TS-XW Servo Base, TX Racing Wheel Servo Base, or T300 Racing Wheel Servo Base units can add the SF1000 wheel to their rig..
Customers in Europe can already order their new Thrustmaster Ferrari SF1000 wheel, priced at €349.99/£329.99, through the Thrustmaster store — although only 1,000 units are available initially. Players in the Asia will be able to buy from May 18, while those in the Americas won't be able to get their hands on the wheel until August 26, priced at $349.99. The T-Chrono paddles will be available for $69.99 (£54.99/€59.99).
See more articles on Ferrari, Thrustmaster, and Thrustmaster Ferrari SF1000.