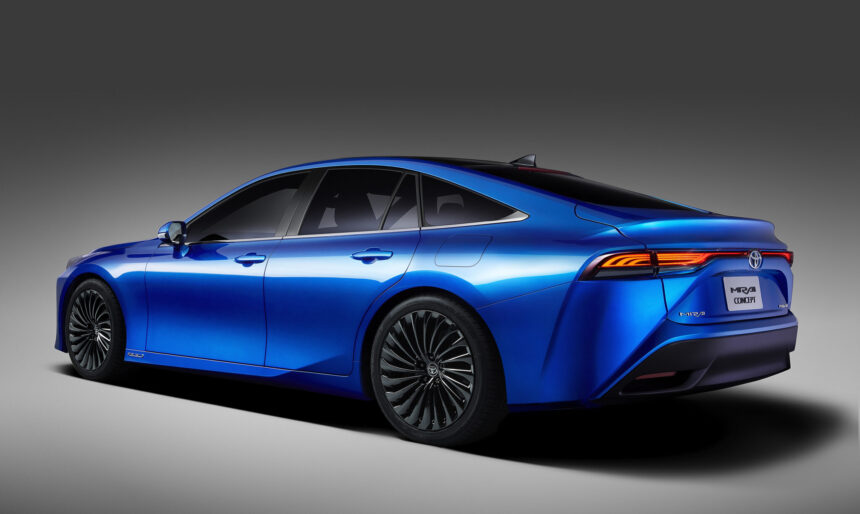 While much of the buzz in the alternative fuel world is about battery-powered electric vehicles, some brands are continuing to develop other… alternative alternatives.
Enter Toyota. The company which occupies an eponymous city in Japan has, for nearly 30 years, been developing hydrogen-powered vehicles. Hydrogen vehicles still use electric motors for drive, but they get their electricity from a chemical reaction via a device known as a fuel cell. That means no need to plug the car in for a lengthy recharge and no heavy battery packs.
Although there's been a number of these cars — also known as Fuel Cell Vehicles (FCV) — available for lease to companies and governments around the world, Toyota was the first to actual sell an FCV and make it available to the general public. After 10,000 sales, that car, the Mirai, is due to be replaced this year, and Toyota has released some preview images ahead of its official presentation at the Tokyo Motor Show later this month.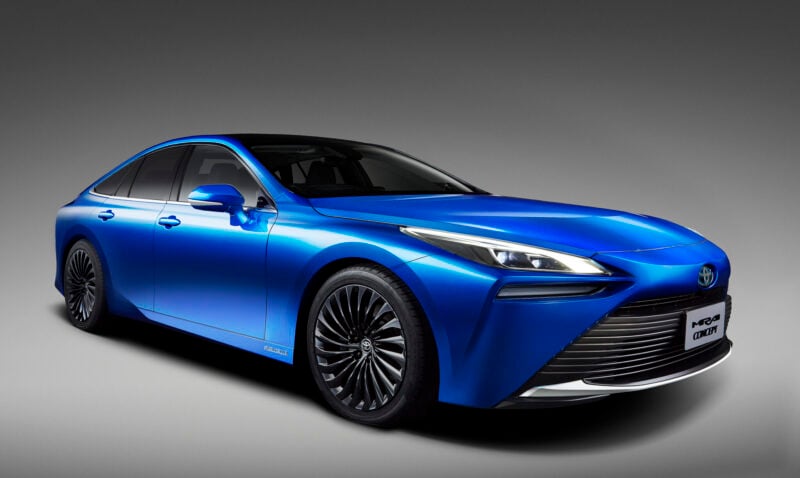 The original Mirai was not much of a looker. It bore a pretty strong resemblance to the Prius family, which was as you'd expect — alternative fuel vehicles live and die by their range, and the Mirai, like the Prius, had all sorts of aerodynamic tricks to help eke out those extra miles. However Toyota has taken a rather different approach for this second generation car.
As Yoshikazu Tanaka, the chief engineer on the new Mirai, explains:
"We have pursued the goal of making a car that customers will feel they want to drive all time, a car that has an emotional and attractive design and the kind of dynamic and responsive performance that can bring a smile to the driver's face.

"I want customers to say 'I chose the Mirai not just because it's an FCEV, but because I simply wanted this car; it just happens to be an FCEV.' We will continue our development work focusing on that feeling, and we hope that with the new Mirai we will be a leader in helping realize a hydrogen energy society."
Unlike the original car, which used a version of the Corolla "New MC" platform, the second generation is more closely related to the Toyota Crown's TNGA-N platform. Along with the change in exterior and interior design, this means a shift from front-wheel drive to rear-wheel drive too. There's more interior space, with the new Mirai gaining an extra rear seat, from the four of the old car.
The change in layout also allows Toyota to fit larger hydrogen tanks, and along with development of the fuel-cell system this gives the new Mirai a 30% improvement in range over the original model. Along with the car, Toyota has been supporting the growth of hydrogen fuel infrastructure in its key markets.
Toyota will preview the car in a special exhibit at the 2019 Tokyo Motor Show, starting on October 23. It's scheduling a market launch in 2020, with Japan, North America and Europe all due to receive the new Mirai.
More Posts On...