If you happen to be in the market for a two-seat hypercar that can breeze through 200mph with ease, your decision just got slightly more difficult. Slovenian performance car manufacturer Tushek has revealed its newest offering, the TS900H Apex, ahead of the official launch at Salon Privé next month.
Chances are that you're not familiar with the Tushek brand, but it does have a decent track record. Originally founded in Slovenia by racing driver Aljosa Tuschek, the brand now has its headquarters across the Styrian hills in Graz, Austria — along with a test track at the city's airport.
It's been making low volume, lightweight performance cars in Maribor, Slovenia, since 2012, starting with the TS500. That's short for Tuschek and Spiegel — the company's founders — and the car's 500hp power output.
The TS900H is the latest in the line, and the fastest by some considerable margin.
Tushek builds the TS900H around a chrome-molybdenum spaceframe chassis. The bodywork is a pre-impregnated carbon-fiber outfit draped over the spaceframe. In the back you'll find a 4.2-liter V8 straight from the first generation of Audi R8, only with an added PES supercharger for good measure, driving the rear wheels.
That power unit is good for a pretty impressive 677hp, but you'll notice that Tushek puts the car's approximate power output in its name, and 677hp is some way short of ~900hp. The TS900H fills in that gap with a pair of electric motors each driving one of the front wheels — yes, the "H" is for "hybrid".
Those front motors can provide up to 643hp between them, but with all of the items of the powertrain working together the TS900H peaks at 950hp, with 1030lbft of torque too.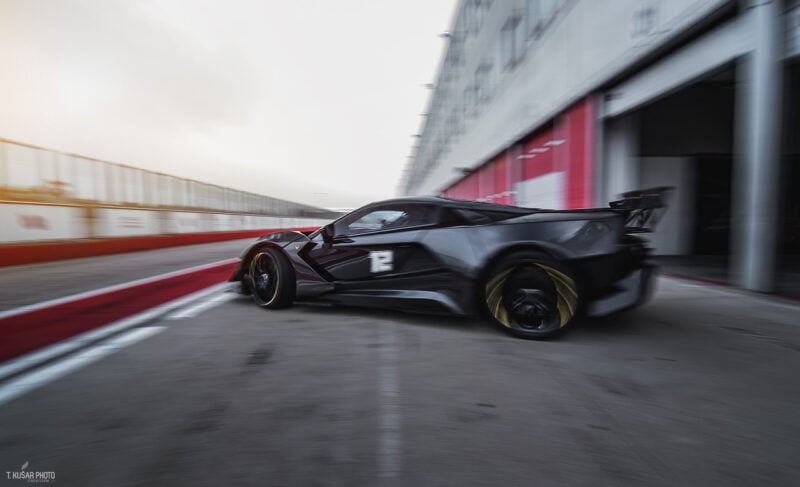 Despite the inevitable weight penalty of hybrid power, Tushek nonetheless claims the TS900H Apex is the lightest hypercar in the world. It says that the car comes in at 1,410kg (3,110lb), and while that's heavier than official figures on some hypercars, it's the car's actual fighting curb weight and not a dry weight without fluids or a driver.
With 684hp/ton, the hybrid TS900H will hit 60mph in 2.5 seconds, and run on to a top speed of 236mph. As you can also remove the car's roof, that makes the Tushek one of the fastest convertibles ever made.
Tushek will officially launch the TS900H at Salon Privé, from September 5-8, at Blenheim Palace in the UK. The company is already reportedly taking orders, with a dozen cars accounted for at approximately €1.2m ($1.34m) apiece.