After years of speculation, it seems that TVR is finally back with us. The much-loved brand has just unveiled the car it hopes will put the company back in business – appropriately enough at the Goodwood Revival.
In a clear nod to the past, TVR is calling the car of its own revival "Griffith", and the recipe is very similar to TVRs of old.
Up front you'll find a 5-liter V8. This is no Rover unit though, rather a Cosworth-tuned version of the Mustang's Coyote engine. In this application, it's good for 500hp and drives the rear wheels through a six-speed manual gearbox.
It's a relatively light car too. However TVR uses modern production techniques to achieve it, rather than glassfiber and glue. Gordon Murray, creator of the McLaren F1, provides that, with his iStream Carbon system. This consists of carbonfiber panels bonded to a steel tube space frame, and the Griffith comes in at 1,250kg (2,755lb).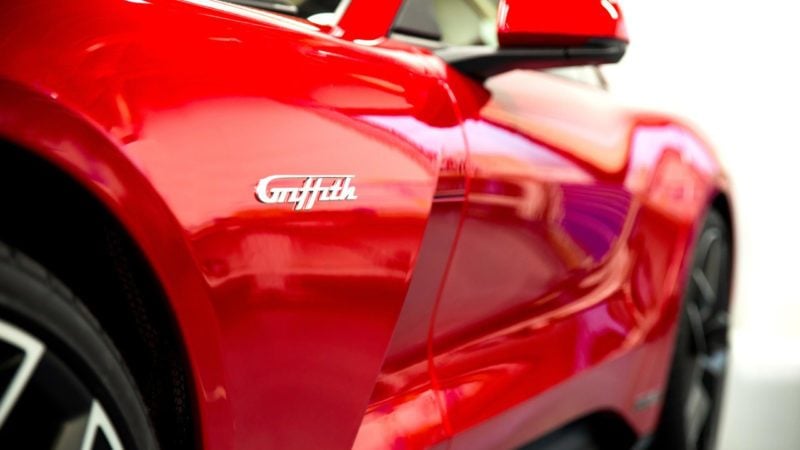 Together this means that TVR has achieved its 400hp/tonne aim for the Griffith. Although front-engined, manual and with few driver aids to help (it has ABS and traction control, but that's about it), the car should be capable of a sub-4 second 0-60mph time, and run on to over 200mph.
To keep the exterior lines clean, TVR has opted to fit a flat floor to generate ground effect aerodynamics. A large rear diffuser and active spoiler should enhance stability at speed. The Griffith eschews the modern trend for wide tires too, with 235mm rubber on all four corners – the same as a Ford Focus RS.
The interior is a typically esoteric TVR cabin, but with a few modern touches. In place of traditional dials is a wide LCD screen, and there's an LCD infotainment screen in the center stack, mounted vertically. You'll find obvious buttons to turn off the driver aids and put it into sport mode. There's plenty of leather and suede and then, because it's a TVR, air vents that appear to be from a 2009 Mazda 6.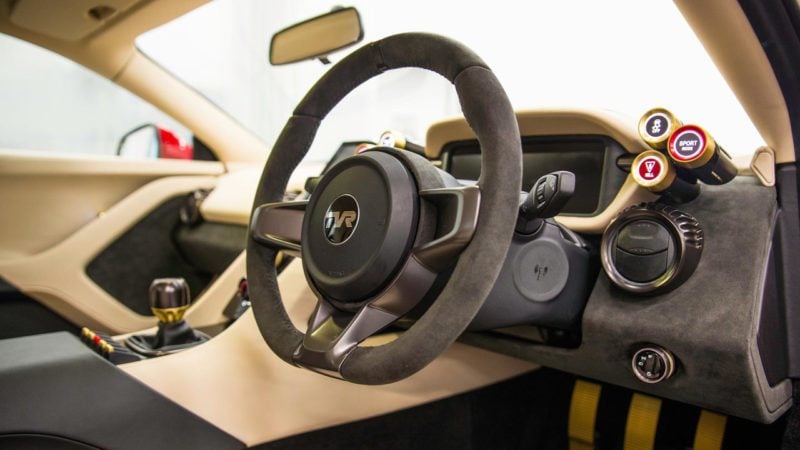 Production of the new TVR should start in 2018 at a factory in Ebbw Vale, close to the proposed Circuit of Wales. TVR's new owner is a consortium lead by Les Edgar, the co-founder with Peter Molyneux of Populous creators Bullfrog Productions. It expects to create around 150 jobs when the refurbished factory is in full production.
The first "Launch" cars should be in customer hands in early 2019, at around £90,000 ($120,000) each. TVR may pitch subsequent versions or the Griffith both lower and higher.
The brand will focus on selling to UK customers at first, expanding to Europe afterwards. There's no plan to sell in the US market yet, or Japan despite the brand's popularity there following its appearance in Gran Turismo and Gran Turismo 2.
See more articles on TVR and TVR Griffith.