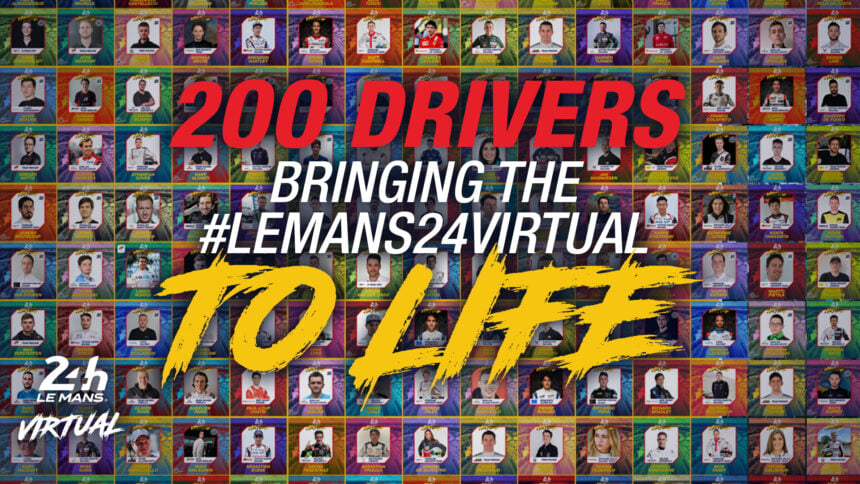 Like so much of this year's motorsport, the 24 Hours of Le Mans has fallen to the unusual global conditions. The event will still run, albeit in September, but the race's governing body, the Automobile Club de l'Ouest (ACO), has opted to stage a virtual event to run in its original June calendar slot.
50 cars will race, each sporting a four-man team of drivers. With a minimum of two real-world racing drivers and a maximum of two sim-racing experts, the 24 Hours of Le Mans Virtual will be an unusual pro-am event: the pros will be the amateurs!
The full team and driver entry list for the event is now available, and it's an impressive roster. As well as past and present names from the world of sports car racing, the line-up features greats from IndyCar and Formula One, a huge list of active racing drivers, and an equally star-studded esports driver cohort.
Five current F1 drivers have entered the event. That includes seasoned sim-racers Max Verstappen and Lando Norris, AlphaTauri's Pierre Gasly, and Alfa Romeo's Antonio Giovinazzi. Ferrari's Charles Leclerc, who's been racing everything virtual from F1 to Rallycross, will also take to the track — appropriately enough, in a Ferrari.
There's three F1 world championships in the field too, with two-time champion Fernando Alonso and 2009 winner Jenson Button both in LMP2 machines. Juan Pablo Montoya could get to complete a physical/virtual Triple Crown, as he runs in LMP2 alongside fellow Indy 500 winner Simon Pagenaud.
The line-up also includes plenty of 24 Hours of Le Mans winners too, with at least one race winner from every event since 2011 (aside from 2013). Andre Lotterer, Nick Tandy, Neel Jani, Brendon Hartley, Sebastien Buemi, and Alonso, will all race.
For sim-racing fans, the gamer lineup is just as impressive. There's esports champions from multiple disciplines, including Greger Huttu, Erhan Jajovski, Olli Pakhala, Rudy van Buren, James Baldwin, Kevin Siggy Rebernak, and David Tonizza. Gran Turismo fans might also recognize the names of Jimmy Broadbent, Tom Lartilleux, and Emily Jones among the driving talent.
While most teams have gone with the two-pro, two-sim lineup, some have gone for extra pro racing drivers. Jones — well-known in the Oceania region for GT Sport — will race in an all-female team for Richard Mille, alongside pro racers Katherine Legge, Tatiana Calderon, and Sophia Floersch. Team Penske, with Montoya and Pagenaud on board, is a full pro team, as is the United Autosports LMP2 car with Filipe Albuquerque, Alex Brundle, Job van Uitert, and Tom Gamble.
For most observers, the overwhelming favorite car will probably be Team Redline's #20 entry. That combines Verstappen, Norris, Huttu, and Atze Kerkhof. Ferrari has a strong GTE car in the #52 that puts together Leclerc, Giovinazzi, Tonizza, and Enzo Bonito. However, almost anything can happen in 24 hours of racing.
The race gets underway at 3pm local time — 1300 UTC — on June 13, running through the full 24 hours to June 14.
Entry List
More Posts On...