We've plucked this week's Want from the ranks of the ideas that never quite made it. After all, nothing quite causes heated discussion like a good concept car.
There's nothing particularly outlandish about the Kia Track'ster either. After all it is, in essence, just a three-door version of the Soul, Kia's A-segment crossover. Well, on the surface, at least.
Designed by the same California design studio in Irvine that created the original Soul, the Track'ster is an unashamed performance model. You may not associate the Kia brand with performance cars, but you wouldn't know it from this attempt way back in 2012.
The design team, lead by Tom Kearns, wanted to make the Track'ster look like a bulldog. We think you'll have to agree they got it right. We're not sure if anyone's tried to 'stance' a Kia Soul before (or since) but this should be their inspiration. The Track'ster is an inch longer than a Soul but a monstrous five inches wider.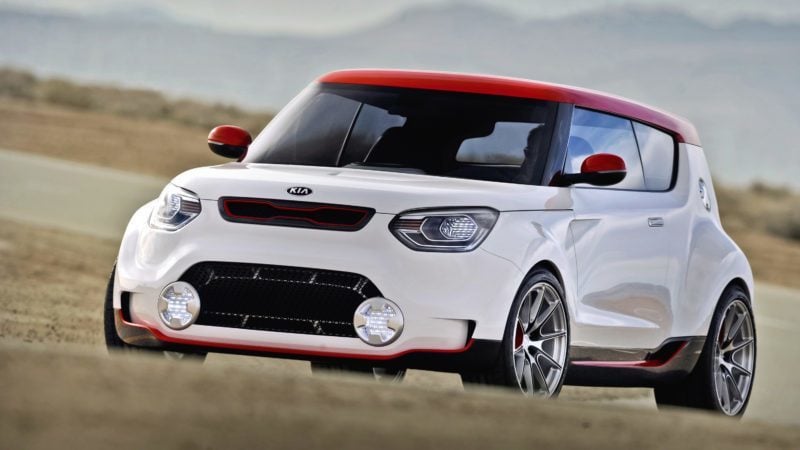 It's rounded off by an aggressive white and orange paint scheme, with a suspiciously deep front air dam. Back in 2012, the most powerful Soul packed in a 2.0-VVT petrol engine with 164hp, so what needs so much air?
Well, the Track'ster sports a 250hp, 2.0-litre turbocharged engine. It's put down onto the road through a four-wheel drive system, so this little car is something of a monster. It has the same power to weight ratio as a contemporary Subaru WRX or Lancer Evo.
To make the most of it, Kia wrapped the Track'ster's custom HRE-K1 wheels with Michelin Pilot Sport PS2 tires. Massive ones – 19-inch on both axles, 245/40 at the front and 285/35 at the back. It's hauled up by 14-inch Brembo discs with six-pot calipers at the front, and a four-pot, 13.6-inch set up at the back.
On the inside there's only room for two – Kia has stripped the back seats out. Instead you'll see storage for tools, helmets and racing gear. A bright orange container holds emergency gear and a sturdy rear strut brace which doubles as a securing mechanism for a fat spare tire.
Ultimately the Track'ster is what would happen if Kia sold its Soul to the devil – and we heartily approve!
See more articles on Concept Cars and Kia.