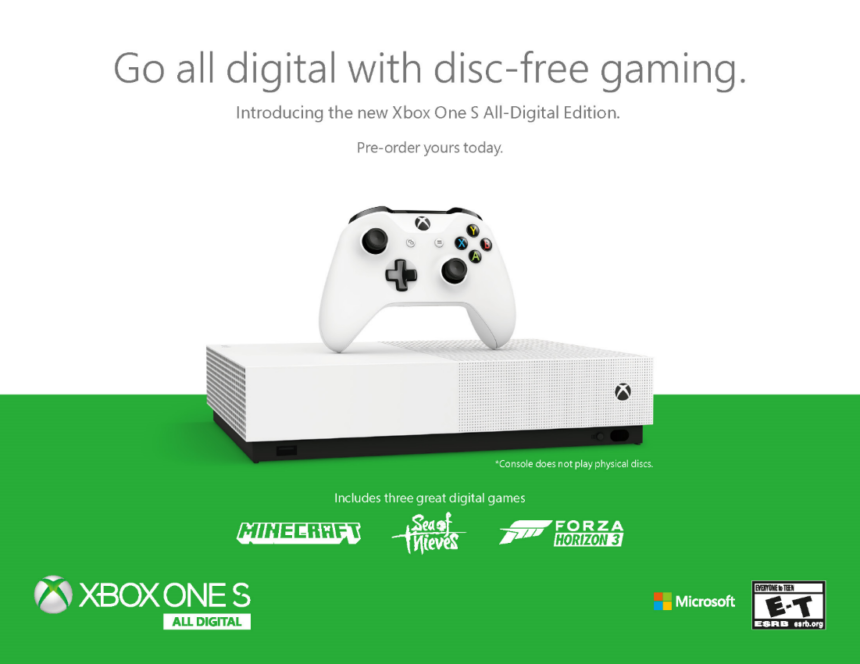 After a leak earlier this week, Microsoft has officially announced the disc-drive-free Xbox One S. It also took the opportunity to confirm Game Pass Ultimate, which bundles both Xbox Live Gold and Xbox Game Pass into one cheaper monthly subscription.
The latest console doesn't introduce a new form, instead coming in at the same size and shape as 2016's Xbox One S. The only difference is the lack of an opening for physical media, with 1TB of storage for game downloads only. Buyers will be able to fill up a good chunk of that from day one, as the All-Digital comes with download codes for Minecraft, Sea of Thieves, and Forza Horizon 3.
The All-Digital also comes in at a lower price point than any previous Xbox One — at least in terms of MSRP. When it goes on sale at retailers and online May 7, it will list for $249 (£199.99/€229.99). A current sale offers the existing One S with a variety of single-game add-ons for that same price, including Forza Horizon 4.
Game Pass Ultimate
Microsoft also confirmed previous rumors of a new version of Game Pass this week. Game Pass Ultimate will combine the existing Game Pass with Xbox Live Gold. Both services currently go for $10 per month, and the combined price will offer a 25% savings, at $14.99/month.
Game Pass includes over 100 Xbox titles, including day one access to first-party releases like the Forza franchise.
It's important to note that while this represents a deal on a monthly basis, there's currently an option to buy XBL Gold in 12-month installments for a discount. At $60 (before any sale prices) plus $120 for a year's worth of Game Pass, it's the exact same price as the new Game Pass Ultimate.
More Posts On...