Next week, Ford of Australia will produce its very last car. The Broadmeadows assembly plant will cap off a 57-year production run of over 4.5 million sedans, wagons, utes and crossovers on October 7. Only two days ago, the Geelong facility — Australia's oldest of its kind — wrapped up engine production after 91 years.
Holden, Ford's perennial competitor on forecourts and circuits Down Under, will follow suit some time next year. While both companies will continue to exist in some form, it marks the end of an era in terms of home-grown cars for the country.
What a timely decision it is then for Australia to be the setting for Playground Games' third open-world Forza title. Featuring an all-star cast of some of the most famous cars the country has ever produced, the game addresses Australia's rich automotive history in a way no other has done before. As the lighter-hearted foil to not only Forza Motorsport 6's more serious simulation leanings, but most of the genre's new releases this year, does Horizon 3 deserve a spot on your shelf (or hard drive)? In a word: yes.
Full Disclosure: I was given the opportunity to review the game on Xbox One through Microsoft Canada's PR firm. Thanks Ryan and Robert!
Story Mode
The first two Horizon titles started pretty similarly: you started from the bottom. Now we're here in Australia, and the job of festival boss is yours. While we appreciate the need for a change in narrative, it's not exactly convincing: you're still left with a semi-linear progression mechanic in the early stages of the game.
That quickly flips as you begin to expand your festival across the country. After achieving a certain number of fans, you're presented with the option to either build on your existing locations, or expand into new territory. The new locations are pre-determined — you can't just plop a festival hub wherever you'd like — and tied to specific fan levels. These hubs provide access to the Autoshow, your garage, and the Auction House, so branching out means less of a trek when you need access to any of these features.
Levelling up hubs brings an exponential number of new events to partake in, and you'll quickly find the coloured dots saturating the map almost overwhelming. Mercifully, it's easy to keep track of which events have already been completed, and the map can be filtered for specific things like Discount Signs, Barn Finds, and others.
A word to the wise about hub expansions: spread them out if you can. Each time the game lets you upgrade a site, it also offers a handful of discount cars for purchase. These cars get pricier the higher level the hub is. In my rush to max out the Surfer's Paradise location (Level 5 is the max for any hub), I was presented with cars all worth over a million credits at an early level. With no way to purchase them, I had to forego the one-time discount. Ouch.
Story Mode brings back series staples like Wheel Spins, Barn Finds, and Showcase Events. Wheel Spins are much like they were in FH2, with the unfortunate caveat that they cannot be banked when levelling up immediately after an event. Barn Finds are also largely the same: you'll hear a rumour from your mechanic, an area of the map will be highlighted, and the hunt will begin. Like the race events, finds come fast and thick: two would be be on the map at once numerous times throughout my playthrough.
Showcase Events are back, and bigger than ever. The first event should be familiar to those that played the demo — a WWII-era Jeep, suspended by a helicopter — but that's only the beginning. Chasing (and hopping) a train, hunting down a pack of speedboats, a gigantic blimp; the events are spectacles, and they're fun. They're also some of the only times in the game where you'll be forced into a particular set of wheels…
Game Features
That "you're the boss" narrative suddenly crystallizes when one of the game's biggest new features is introduced: Forza Blueprint. No longer are you chained to a particular car or class for events; you get to pick eligible cars — as vague or specific as you'd like — as well as time of day, traffic, and number of laps.
Blueprint extends to the Bucket List feature too (another carry-over from 2014's Horizon 2), letting you customize the style of event, the exact car (tuning included) and even the music station your friends will be locked into. Give your new creation a name, and the game auto-generates an event poster for it.
It's all very impressive, encouraging a level of community interaction and creativity few games in the genre can manage. Blueprint means no player has to follow the same path to completion as their friends. It isn't perfect, of course: a truly custom path isn't positive when Blueprinting events, and the Bucket List Blueprints rely on the game's GPS to determine the best path to your desired finish line. There also isn't an easy way to share created events with club members; only XBL friends can get the invite.
Speaking of, Clubs once again return to the franchise. The good news is that they can be massive (1000 players), and provide members with an additional credit stream. The bad news is the functionality is limited: not only can you not share user-created events as mentioned above, but there's also no shared garage as there was in the original Horizon. With such a high level of connectivity built into the game, this aspect seems ripe for improvements.
Another area that could use an improvement is the player's garage. With the biggest lineup in Horizon history, it's reasonable to expect players will (eventually) have a collection deep into the triple digits. This makes the endlessly side-scrolling menu cumbersome when trying to pick a ride quickly. FM6 did things better by letting players skip multiple marques with just a tap of the shoulder button, and FM4 remains the gold standard of the series by allowing players to create custom folders for their garage. It's a relatively minor negative, but a negative nonetheless.
We've gone this far without mentioning them, but we can't hold it any more: the Showroom and Auction House have returned to the Forza franchise! Showrooms give creative types a one-stop-shop for others to easily browse designs, tunes, and photos. The Auction House, for those less careful, can become an addictive game within a game. Players can put any car of their choosing up on the block, specifying starting price, buyout, and duration of the auction. Through crafty wheeling and dealing, a veritable pile of credits can be had.
Cars, Customization, & Physics
FH3 arrives with over 350 cars from day one, making it the largest lineup in the franchise and cementing the Forza series' reputation as the biggest, most diverse collection of cars available on this console generation. While the People's Car maker is sadly absent, and any hints of Porsche during E3 remain nothing more than that, the lineup is still eclectic.
What other game sees Ferrari's 1949 Le Mans-winning 166 MM rubbing shoulders with the bonkers single-gear Koenigsegg Regera? The Meyers Manx jumping sand dunes alongside the Local Motors Rally Fighter? A Reliant Supervan doing … well, anything. Especially tipping over.
In addition to the three-wheeling Only Fools and Horses steed, this edition of Horizon blends off-road buggies into the mix. Ariel's awesome Nomad is an easy favourite, while companies like Polaris, Penhall, and Alumi Craft also contribute dedicated off-road machinery. The Polaris side-by-side in particular is a hoot, and feels remarkably similar to the one we rode along in on the #AcrossTheHorizon tour — just without that nagging sense of self-preservation.
Much has been made of the increased customization Horizon 3 brings to the table. The aftermarket rim lineup gets a much-needed modernization with new options from ADV.1, Fifteen52, and Rotiform. Widebody kits from Rocket Bunny and Liberty Walk will appease the tuner crowd, bundled alongside some Playground-designed flares-and-exposed-radiator kits for older Japanese metal.
Most muscle cars gain a visible blower poking out of the hood, undoubtedly drawing from 2015's Fast & Furious pack and standalone mini-game. All in all, roughly 1/4 of the cars in the game have new visual customization options. Not as many as one may have hoped, but given the size of the lineup, it's to be expected.
The new additions highlight some of the weaknesses of the otherwise strong Forza customization system, however. The new wheels tend to offer different rim and spoke finishes, which Forza's single-colour painting options remove. A system like Need For Speed's, where the rim and the main design can be coloured separately, would help immensely.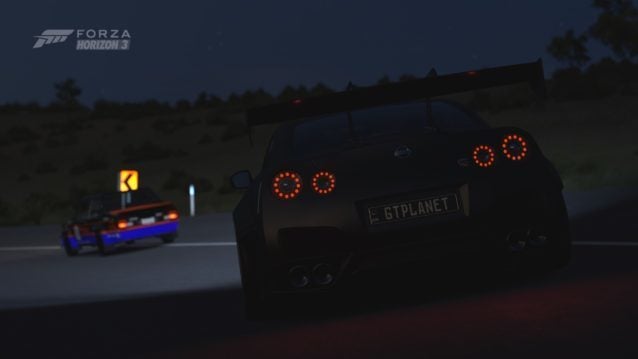 This may be down to the decision to allow players to import designs from the earlier XB1 Forza titles. If that's the case, it's a bittersweet situation: players don't need to redo designs from scratch, but there's little innovation in the painting department.
The widebody kits can't be equipped piece-by-piece, offering an all-or-nothing approach other than the rear wing options. This is particularly frustrating with the old-school Japanese cars like the Celica GT or Datsun 510, where you may want the increased track the fender flares offer, but not the attention-drawing exposed radiator.
Playground Games kept one card close to their chest: Horizon Edition cars. These pre-tuned bad boys occasionally pop up in the wheel spins, and come with built in bonuses for credits, skill points, and other perks. Don't expect to grab the entire fleet quickly, though: we've only bagged a single model during our play so far.
The physics of the game find a happy balance between the simulation leanings of the Motorsport titles, and the all-out Arcade antics of games like Need For Speed or The Crew. Supercars can travel off-road at frankly indecent speeds, yes, but a car equipped with a rally-bred combination of suspension and tires will do it quicker still, and with less histrionics.
The full spectrum of tuning options is once again available to players, from tire pressure to aerodynamics. Compared to FH3's predecessor, our initial impressions on both pad and wheel are of a game with less floaty, more tied-down cars, but also less mechanical grip from the tires. Torquey muscle cars require care when applying full throttle, and will quickly swap ends if you're ham-fisted. During the summer, Dan Greenawalt said in an interview that the main difference between Motorsport and Horizon is that surfaces are given extra grip in the open-world game. Our experiences bear this out.
Graphics & Sounds
There's no dancing around it: this is a seriously good-looking game. The knock back to 30fps on Xbox One compared to the Motorsport series allows Playground to double-down on the eye candy. PC players don't even have to accept that setback either: if you've got a powerful enough rig, the game can be run at 60fps at up to 4K resolution.
The team took a custom 12K photo rig to Australia to capture the actual skies, and it shows. Clouds slowly roll in before unleashing a torrent of water on the roads, and night time delivers true inky blackness, with only your headlights picking out the road in front. Unless you're up in the Ormiston Gorge, where fireflies will offer a bioluminescent helping hand.
HDR (High Dynamic Range) really kicks the visuals up a notch. It's not something that can be shown in still images on your monitor or smart phone, but take our word for it: it adds another layer of realism to the game.
One of the best ways to take in the surroundings is with the game's new Drone Mode. Players are handed the controls to a quad-copter with no limit as to where they can explore in Australia. There is a height limit — same as the Photomode, sadly — but its maneuverability makes the drone an ideal sight-seer. The rainforest portion of the map deserves recognition; not only is the light poking through the leaves overhead impressive, but the sheer density of the foliage never ceases to amaze.
The sound team deserves recognition too. Nevermind the engines, which have a real meatiness to them, or the crunch of a hard landing after a jump, Horizon 3's aural strength is in the atmospherics. You'll hear the distant hum of wildlife as the sun sets on the Outback. Surfers Paradise bustles with cars, trains, and people making their way through the city.
Drivatars & Online Modes
First introduced at the start of this console generation, the Drivatar system once again acts as the AI backbone for Horizon. Purportedly a learning program, we'll have to see how the drivers change and adapt now that the game is available in all regions. These computer-controlled opponents largely behaved themselves in free roam, but displayed a surprising lack of spatial awareness during races, turning directly into us mid-corner. After countless miles racked up in FM6 with this rarely if ever happening, it certainly comes as a surprise.
We also witnessed races devolving into chase-the-rabbit situations early on in the review process, with one or two opponents breaking away from the pack and setting substantially quicker times. Luckily, this seems to have already been ironed out since the early access kicked off last Friday.
Those looking to play with friends online won't be disappointed, with a large selection of modes and events to choose from. Online Adventure works just like previous games, dropping players into a room to travel the map and knock out either races or Playground events (Infected, King, or the new Flag Rush) in four-part mini-tournaments.
Online Freeroam is self-explanatory; you and your friends can explore on your own terms, taking in events as often as you'd like. The leader can set routes for the party, pick races or Playground games for the group to compete in, and even activate Bucket Lists. Even better, Blueprint mode is fully operational while in Online Freeroam, allowing you to essentially make up a series on the fly. The only limitation in terms of online play is your imagination.
Conclusion
The one word that we on the team keep coming back to is "fun": Horizon 3 delivers it in spades. It's hardly the last word on vehicle simulation, but then again, it never pretends to be. And you know what? That's not a bad thing. As simulation games continue to hunt down physics-engine authenticity with varying levels of success, each begins to feel more and more like its competitors. Horizon 3 is a breath of fresh air by comparison.
Sims are like a fine steak. Kunos, Polyphony, Turn 10, and Slightly Mad Studios all offer tantalizing cuts of beef. Arcade racers like Need For Speed, The Crew, and even Driveclub, by comparison, are burgers. Now, we love a nice slab of ribeye as much as the next person — same with burgers — but we wouldn't want to eat either exclusively for every meal. What's important to remember is that they're all cut from the same bovine: driving games. And right now, Playground Games is offering up the most towering, tastiest burger in town.
See more articles on Review.