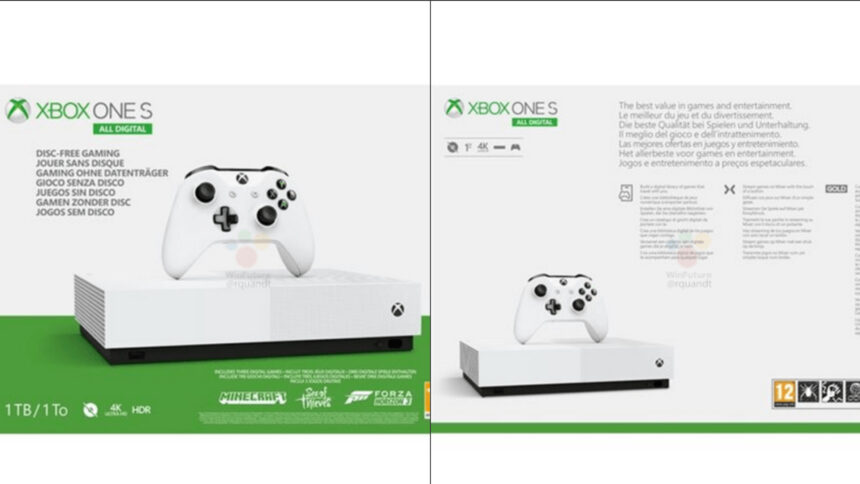 After months of rumors, we've got our best look yet at the disc-less Xbox One.
The leak comes courtesy of German website WinFuture. What appears to be a retailer listing shows the next version of Microsoft's console, dubbed the Xbox One S All Digital. As the name implies, the system will come without a disc drive, forcing owners to rely on downloaded versions of games exclusively. They'll have a 1TB hard drive to use — which can fill up pretty quickly with game sizes these days — but it isn't clear if smaller or larger storage options will be available.
The ad suggests the All Digital will come with three games pre-installed: Minecraft, Sea of Thieves, and Forza Horizon 3. The new console should also come in around €70 cheaper than the current 1TB model's MSRP — though it's important to note deals are quite regular on the existing One S.
It's a first for this generation of home consoles, but the move away from physical media has been a steady one. Not only are digital sales figures making up a larger part of the pie each year, but companies are investing in game streaming tech too. Microsoft showed off its own xCloud platform recently, while Sony has the PS Now service. There's also Google's recently-unveiled Stadia not-a-platform, which will allow gamers to play across a variety of devices.
Gamespot reports that Microsoft may even be planning a "disc-to-digital" program. With this, players would be able to take existing physical copies to select retailers in exchange for digital codes.
The ad lists the All Digital's availability begins May 7. Microsoft has yet to officially announce it, but with only weeks until the date, it should happen soon.
More Posts On...