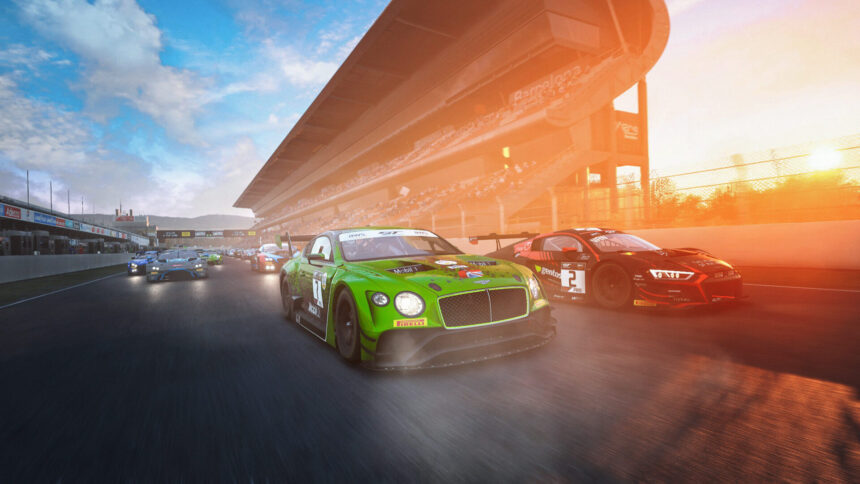 There's even more pro-driver esports on the horizon, and this time there's a chance for players to get involved too.
The SRO, the organizing body behind much of GT racing worldwide, has created a pro-am championship that bears more than a passing similarity to similar real world events such as the Blancpain GT series. It goes by the name of "SRO E-Sport GT Series", and it follows on from the charity race we saw last month.
There'll be three tiers of competition, with the Pro Series, the Silver Series, and the Am Series. The Pro and Am series are exactly as the names suggest, with drivers from the world of professional motorsport and then players who have come through a qualification process. Sitting in the middle is the Silver Series, which is for pro sim racers only.
If you wish to try your luck for the Am Series, you'll need to qualify. You'll need to register on the official sro-esport.com site, and then hit up one of the qualification sessions in Assetto Corsa Competizione. These take place at Circuit de Spa-Francorchamps, Silverstone, Barcelona, and the Nurburgring, across four Sundays from April 26 to May 10.
The top 10 from each of the four sessions will qualify for the five-round tournament, however players will be required to use the car in which they qualified for the whole event. In addition, the Silverstone round will be exclusive to the Bentley Continental GT3.
For the competition's initial stages, the Am Series drivers will race on their own schedule, separate from the Pro and Silver racers. However, both will race across the same five circuits in the same order, with each round live-streamed across SRO's Twitch and Facebook pages and GT World's YouTube. The respective calendars are as follows:
Pro and Silver Cup
Round 1 – Silverstone – 26 April
Round 2 – Spa-Francorchamps – 10 May
Round 3 – Nurburgring – 17 May
Round 4 – Barcelona – 31 May
Round 5 – TBD – 14 June
Am Cup
Round 1 – Silverstone – 16 May
Round 2 – Spa-Francorchamps – 23 May
Round 3 – Nurburgring – 30 May
Round 4 – Barcelona – 6 June
Round 5 – TBD – 13 June
The final track in each series is subject to a public vote, and will be confirmed nearer the time.
At the conclusion of the series, there will be a further grand final which unites all of the drivers. During the five-round tournament, the top 10 players in each race will receive points, with 25 to the race winner. The top 20 finishers in the Pro and Silver Series, plus the top 10 finishers in the Am Series, will race together for this finale.
Event registration is open now, if you fancy your chances of qualifying!