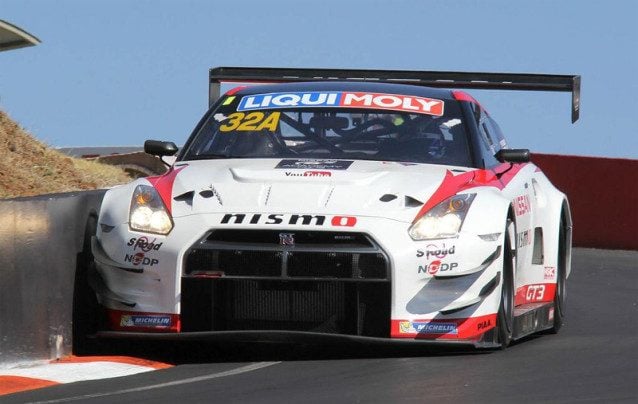 2014 is a strong year for GT Academy in motorsports, with an interest in the Bathurst 12 Hours for the first time this weekend.
Slotting into the top "A" class for GT3 cars, the #32 Nissan Nismo GT-R GT3 will be driven around the fearsome Mount Panorama course by a mixture of Nissan driver development program pilots, with 2012 European Champion Wolfgang Reip providing the face of gaming alongside V8 Supercar driver Rick Kelly, Nissan Super GT GT300 driver Katsumasa Chiyo and Academy lynchpin Alex Buncombe.
The team will start today's race from 5th place after qualifying, with their combined times less than a second behind the Erebus Racing Mercedes SLS, with Rick Kelly's flying lap a particular highlight:
Race Coverage
Community Discussion
Update
The GT-R retired during the third hour of the race following an incident at McPhillamy Park corner. With fluid on the track from a stricken Ferrari 458 and a colossal dust cloud from the kitty litter, Super GT driver Katsumasa Chiyo lost control and collected the Clearwater car at over 130mph, leading to significant, race-ending damage. Chiyo – and Ferrari driver Hiroshi Hamaguachi – was uninjured.
The GT-R had been battling for 3rd overall at the time following stints from Rick Kelly and Chiyo, meaning Alex Buncombe and Wolfgang Reip didn't get a chance to participate in the race after their strong qualifying performances.
More Posts On...