The midfield battle continues to rage on in Formula One, with teams vying for the best position in the Constructors' Championship — millions of Euros are at stake. With 333 points to his name, Lewis Hamilton is this year's World Champion but there's still plenty left to play for in the 2017 season. Valtteri Bottas is only 15 points behind Sebastian Vettel in the Drivers' Championship as they jostle for the runner-up spot.
The first major talking point was recently crowned four-time world champion Lewis Hamilton spinning out just five minutes into the session and heavily impacting the barriers. No broken bones but a broken car and a broken heart for the man looking for a pole in the home of his hero, Ayrton Senna. Plummeting track temperatures meant grip was very low as Hamilton's Mercedes bottomed out into turn six and he was heading straight towards the scene of the accident.
It is the first time Hamilton has crashed in Q1 since Belgium 2014. After taking his proverbial foot off the gas at the end of his 2015 championship campaign, Hamilton vowed to not repeat that this year. But it looks like he may have a similar end to his 2017 season as he'll start at the back tomorrow. The overtaking ace will have a lot to do.
Bar Lewis Hamilton, the usual suspects were out in Q1. Pascal Wehrlein out-qualified his Sauber team mate Marcus Ericsson as they'll line up 16th and 19th tomorrow. Toro Rosso rookie Pierre Gasly starts 17th while Lance Stroll could only manage to put his Williams in 18th place on a scruffy lap.
The surprise elimination in Q2 was Esteban Ocon for Force India. Ocon's been on great form as of late, and will be looking to make his way back up the grid from P10, but with the advantage of a free choice of tires. There were no further dramas from the rest of the Q2 knockout zone. Romain Grosjean starts 12th, with his Haas team mate Kevin Magnussen 14th. Stoffel Vandoorne starts 13th for McLaren and new boy Brendon Hartley didn't set a time as he'll take a grid penalty regardless.
The main man of the day was Valtteri Bottas as he pulled it out of the bag right at the end with a new absolute track record of 1:08.322. Bottas' third pole of the year was a truly stellar performance. With his team mate putting his car in the barriers earlier in the session, Bottas was busy putting his Mercedes on pole position. His elation was clear over the radio as his team congratulated him. It was an important pole if he wants to beat Vettel to second place in the championship, with the German starting just behind him in P2.
The other Ferrari of Kimi Raikkonen starts P3, closely followed by the Red Bull tandem of Verstappen and Ricciardo. Sergio Perez managed 6th in the Force India, Alonso dragged his McLaren to 7th and the Renaults start 8th and 9th with Hulkenburg leading Sainz.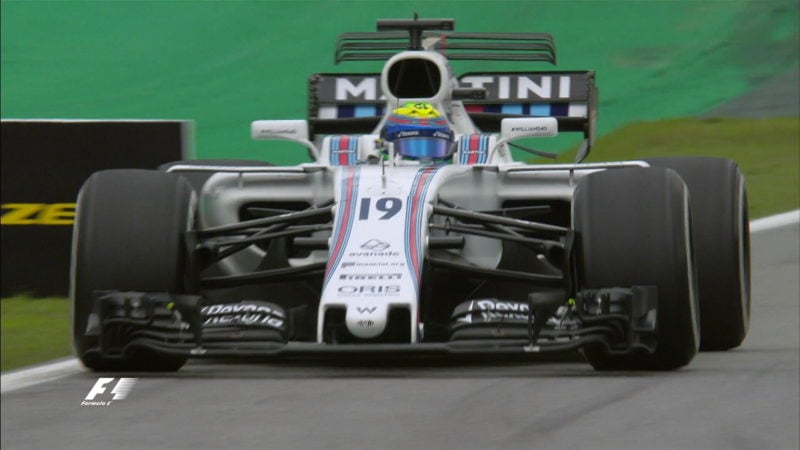 It's Felipe Massa's final home grand prix. Again. But for real this time. He's really, really not coming back next year. Felipe's 15th and final qualifying session in Brazil ended with a solid 10th place in qualifying. Massa has always done well around his home circuit and today's qualifying performance was no different.
The usual F1 politics continue as Renault, Red Bull and Toro Rosso all argue about the unreliability of the French marque's power units. Is Renault causing unreliability deliberately so Toro Rosso doesn't beat it in the Constructors' Championship? It seems awfully far-fetched, but this is Formula One after all.
See more articles on F1 2017 Season.