Williams Martini Racing confirms Felipe Massa will leave the team — and F1 — at the end of the 2017 season. Longtime viewers and fans of the Brazilian driver will know this isn't the first time he's retired from F1.
Emotions were heavy in Brazil last year where Massa originally announced his retirement. As we know now, the retirement was short-lived. Massa returned to assist the team following Valtteri Bottas' departure to Mercedes. With Massa and teammate Lance Stroll, Williams currently stands fifth in the Constructors' Championship.
Felipe Massa has a storied career. Starting his career with Sauber in 2002, he would go on to become a full-time driver for Ferrari in 2006. He scored his first career podium at Nürburgring in that season, finishing third behind teammate Michael Schumacher and Fernando Alonso.
He would go on to secure his first pole position and race victory at the Turkish Grand Prix in the same season. Furthermore, Massa won his home race in Brazil, becoming the first person to do since Ayrton Senna in 1993. During his 15-year F1 career, Massa has 267 race starts, 11 wins, 41 podiums, 16 pole positions to his name. There's also the fact he narrowly lost the Drivers' Championship to Lewis Hamilton in 2008.
The former Ferrari driver debuted with Williams in 2014. Massa played an integral role, helping the team secure third place in the Constructors' Championship in 2014 and 2015. At this year's season finale, Felipe will bid farewell to the F1 world again — this time for real. While it may not match the atmosphere of last year's Grand Prix, Massa will no dout be the favorite at Brazil next weekend.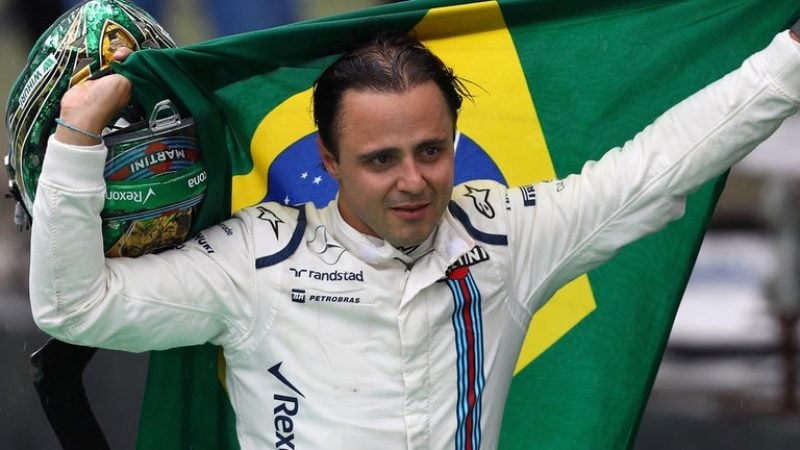 In the team statement confirming his departure, Massa clarifies:
"As everyone knows, after announcing my retirement from Formula 1 last year, I agreed to return this season to help Williams when the call came. I have now enjoyed four great years with the team, but my career in Formula 1 will finally come to an end this season."
Deputy Team Principal Claire Williams thanked Massa for his four-year tenure:
"We are especially grateful that he agreed to postpone his retirement from Formula 1 for a year, after Valtteri joined Mercedes, which demonstrated the depth of the relationship we built during our time together."
Williams has yet to announce its lineup for the 2018 season, but some interesting names have come up. Reserve driver Paul di Resta, Pascal Wehrlein and Robert Kubica are all available names. Perhaps even the recently orphaned Daniil Kvyat can throw his name in the hat.
You can read the team's statement in full on Williams' Twitter page.
More Posts On...