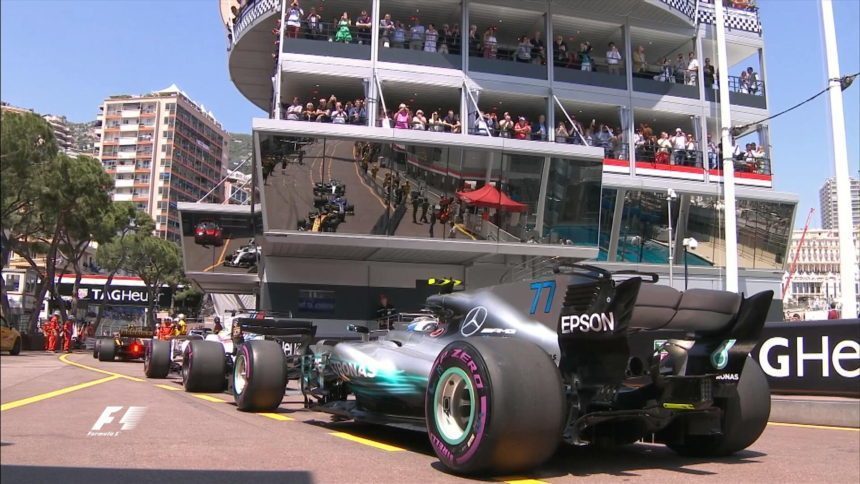 If you took notice of the Practice sessions on Thursday and Saturday, the results of the Monaco F1 qualifying session were almost a foregone conclusion. Almost because most would've predicted Sebastian Vettel to take the spoils. However, it was his team mate Kimi Raikkonen who stole the precious pole in the principality.
The Ferraris have looked fast since Thursday (Practice 1 and 2 are not on Friday in Monaco as it's Market Day) and to see a red car on pole was a surprise to nobody. The shorter wheelbase of the Ferrari SF70H aids it in the tight and twisty profile on the Monaco track. To add to that, it's thought the Ferrari is easier to set up and easier to drive overall than the rival Mercedes machine.
As is common knowledge, overtaking through the streets of Monaco is a rare sight. It can be done, but one must be brave. Therefore, qualifying often dictates the result of the race. Seven out of the last ten pole sitters have gone on to win the race. We won't see a wheel-to-wheel battle a la the last race in Spain. The smart money, then, would be on Raikkonen for a comprehensive victory. But, in the words of the great Murray Walker — in Formula One anything can happen, and it usually does.
Of course, a victory for the Fin would be great to see. Believe it or not, Ferrari hasn't won in the principality since 2001 and Kimi's last pole was France 2008. His record 129-race streak without a pole finally came to an end today. Raikkonen's pole time of 1:12.178 is a new record around the streets of Monaco. An excellent result for arguably the most popular driver in Formula One.
The guy most people tipped for pole — Sebastian Vettel — was just four hundredths of a second adrift. He'd been on the pace all weekend, but around Monaco it's all about commitment. Kimi looked more committed on the lap that counted and pipped his German team mate to start at the front of the grid tomorrow.
Meanwhile, Mercedes has been enduring a torrid weekend. All three practice sessions were far from impressive but it was Lewis Hamilton's woeful qualifying that put the icing on the cake. Hamilton almost crashed into the barriers twice in Q2, claiming on the radio that "something's not right with the car." It looked undriveable, with the back end stepping out almost constantly.
Due to traffic and tire warm up problems, it came down to one lap at the end of Q2 to get into Q3. However, due to Stoffel Vandoorne stuffing his McLaren into the barriers, the yellow flags waved and Hamilton was forced to abandon his lap. He starts a lowly thirteenth tomorrow. The last time Lewis didn't make it into Q3 based on pure pace was Italy 2013. It's very strange to see a Mercedes starting outside of the top ten based on pace alone. This is Mercedes — a team that has won over ninety percent of the races since 2014.
Valtteri Bottas, however looked a lot more comfortable than Hamilton. After all of Mercedes' problems he was only three thousands of a second off the front row. A great performance to pull one out of the bag at the end. Mercedes will pin its hopes on Valtteri Bottas bringing a modicum of solace tomorrow.
With one McLaren preventing a Mercedes getting into Q3, the other McLaren therefore made it through. Jenson Button, on his one hit wonder return to Formula One, spectacularly made it into the final part of qualifying. He clearly hasn't lost a step since he retired from the sport in November last year.
Jenson is driving in the place of Fernando Alonso as Fernando will be taking part in his first Indy 500 tomorrow. Alonso starts fifth on the grid in the historic race. Jenson, meanwhile put Alonso's McLaren in ninth place in the equally historic Monaco. However, McLaren needed to change too many parts of the engine. Thus Jenson incurred a fifteen place grid penalty for the race. He starts dead last tomorrow.
With Mercedes' lack of pace this weekend and with Ferrari's abundance of it, the state of the championship could be significantly altered after the dust settles on Sunday. A podium looks to be a certainty for Vettel tomorrow, whereas Hamilton will be lucky to finish in the points. A significant fact for you: Sebastian Vettel has never lost a title when he's led it from the beginning.
The grid for the 2017 Formula One Monaco Grand Prix:
POS
NO
DRIVER
TIME
1
7

Kimi

Räikkönen

FERRARI
1:12.178
2
5

Sebastian

Vettel

FERRARI
1:12.221
3
77

Valtteri

Bottas

MERCEDES
1:12.223
4
33

Max

Verstappen

RED BULL RACING TAG HEUER
1:12.496
5
3

Daniel

Ricciardo

RED BULL RACING TAG HEUER
1:12.998
6
55

Carlos

Sainz

TORO ROSSO
1:13.162
7
11

Sergio

Perez

FORCE INDIA MERCEDES
1:13.329
8
8

Romain

Grosjean

HAAS FERRARI
1:13.349
9
26

Daniil

Kvyat

TORO ROSSO
1:13.516
10
27

Nico

Hulkenberg

RENAULT
1:13.628
11
20

Kevin

Magnussen

HAAS FERRARI
1:13.959
12
2

Stoffel

Vandoorne

MCLAREN HONDA
13
44

Lewis

Hamilton

MERCEDES
1:14.106
14
19

Felipe

Massa

WILLIAMS MERCEDES
1:20.529
15
31

Esteban

Ocon

FORCE INDIA MERCEDES
1:14.101
16
30

Jolyon

Palmer

RENAULT
1:14.696
17
18

Lance

Stroll

WILLIAMS MERCEDES
1:14.893
18
94

Pascal

Wehrlein

SAUBER FERRARI
1:15.159
19
9

Marcus

Ericsson

SAUBER FERRARI
1:15.276
20
22

Jenson

Button

MCLAREN HONDA
1:13.613
More Posts On...