In a race we'll remember for a long time, Lewis Hamilton capped off a stellar weekend with a thunderous win in the Pirelli Spanish Grand Prix. The fisticuffs were out as the battle raged on in a spectacular Spanish showdown.
The Ferrari versus Mercedes clash was turned up to eleven as both teams tried to out-think each other and out-drive each other around the Circuit de Catalunya. Praise should be handed to both the strategists on the pit wall as well as the drivers on the track.
It was carnage at the start. Never mind Vettel out-dragging Hamilton into turn one! Valtteri Bottas, Kimi Raikkonen and Max Verstappen entered turn one in a three-wide formation. Bottas, up the inside, tapped Raikkonen into Verstappen, thus breaking both drivers' suspensions. Karma caught up with Bottas though as his engine failed on lap 39 — a change of fortunes for the Finn after his win last time out in Russia.
Kimi and Max trundled back onto the track and straight into the pack, forcing Felipe Massa to avoid them. This caused Massa to hit Fernando Alonso and forced him off into the gravel, his excellent qualifying negated. The Spaniard came home a lowly twelfth but at least his McLaren car finished the race!
After pulling out a 2.5-second gap, Vettel pitted for soft tires on lap 15 to try and prevent the undercut from Hamilton. He came out in fourth behind Ricciardo. Vettel crucially dispatched Ricciardo quickly to try to negate any time loss to Hamilton.
After Lewis pitted for medium tires on lap 21, it was his team mate's turn to play rear gunner. Bottas kept Vettel behind him, thus allowing Hamilton to get closer to Vettel.
But it wasn't for long as on lap 25, Vettel put a dummy onto Bottas into turn one. He dove right, then left, then right again and onto the grass at 200mph as he spectacularly pounced up the inside to make a critical pass and regain the lead. The gap was closed by three seconds between Vettel and Hamilton after this.
The catalyst for the turning point of the race happened on lap 35. Felipe Massa and Stoffel Vandoorne tapped wheels into turn one, causing the latter driver's suspension to break. This left him in a dangerous place in the gravel as a Virtual Safety Car (VSC) was deployed.
Lap 37 was where it all went down. Hamilton pitted for fresh rubber just as the VSC ended and while the cars were still slowly circulating. Vettel pitted a lap later, but because the cars were now running at full racing speeds, he lost around six seconds to Hamilton. This strategic master plan from the Mercedes team showed that in F1, the race can be won and lost both on and off the track.
Vettel came out of the pits just as Hamilton was powering down the main straight. They entered turn one absolutely together and banged wheels through the corner, Vettel forcing Hamilton off the race track. The fight we'd all been waiting to see finally happened as the drivers got their elbows out to fight for the win. It was Ferrari versus Mercedes, Vettel versus Hamilton for the lead of the Spanish Grand Prix.
Hamilton was stuck behind Vettel for only a short while as on lap 44, driver 44 Lewis Hamilton passed Sebastian Vettel around the outside into turn one. Lewis' tenacity paid off as we watched two hard-nosed drivers fight for a World Championship.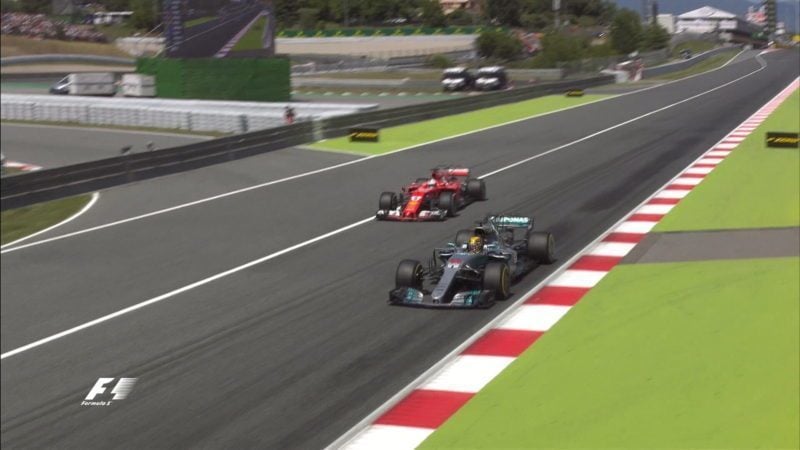 It was crucial for Hamilton to get by as quickly as possible because his less durable tires wouldn't last as long as Vettel's. Both teams knew Sebastian would likely be quicker at the end of the race. Twenty laps remained.
But this never came to be. The track temperature dropped and Hamilton's soft tires didn't degrade as much as expected. The British driver even set the fastest lap with two tours to go. Hamilton takes his win tally to 55 but remains six points behind Vettel in the Drivers' Championship. Mercedes continues to lead Ferrari in the Constructor's Championship.
In other action, Pascal Wehrlein did very well to finish in eighth. Points are a dime a dozen for a Sauber team that needs everything it can get. Catalunya brought great results for Force India as the team finished fourth and fifth, no doubt helped by the retirements of those ahead, but still a fantastic effort from the team draped in pink.
Daniel Kvyat came from the last row of the grid to finish in a brilliant ninth place. Some important points for his Toro Rosso team which is right in the midfield battle. Daniel Ricciardo came home in third almost 76 seconds behind the Mercedes and Ferrari. Red Bull must do something about its pace — or lack thereof.
The fans were treated to a proper race today. The battle between Ferrari and Mercedes took center stage around a circuit that most people expected to be a snooze fest. Vettel and Hamilton brought everything and left it all out on the track.
Both drivers appeared exhausted at the end of the race as they likely lost around two kilos in body weight. These new cars are really taking their toll on the drivers. Everybody certainly earned their pay checks today!
The jewel in Formula One's crown is up next as we head to Monaco in two weeks time. Seriously though, you really can't pass around there.
You can find the full results over at the Formula One website.
More Posts On...