Lewis Hamilton starts on pole for the 64th time in his Formula One career tomorrow as he edged out championship leader Sebastian Vettel in qualifying earlier today.
The British driver was quick all weekend and showed promising pace in all three Practice sessions. His time of 1:19.149 was almost two seconds quicker than last year, showing that these new cars are as pacey as promised.
Hamilton's heavily upgraded Mercedes F1 W08 has dropped around three kilograms in weight since the last race in Russia. This diet will have certainly contributed to his qualifying success.
Hamilton's team mate Valtteri Bottas will start in a very respectable third on the grid. Bottas took a brilliant pole at the last Grand Prix in Russia but he couldn't hang with Lewis and Sebastian today. He can certainly do a lot of work from third as the run down into turn one is a fairly long one.
Having said that, the Circuit de Catalunya is notoriously difficult to overtake on. After the first few laps, overtakes may be few and far between — especially with all of the carbon fiber wings hanging off these highly aerodynamic cars.
There was drama early on as the engine troubles that Sebastian Vettel experienced in Practice trickled over into Qualifying. The Ferrari mechanics had to install a brand new engine into the German's car before Qualifying; a job that normally takes four hours was astonishingly accomplished by the mechanics in just two and a half.
There was an initial worry that Vettel wouldn't make it into Qualifying but after the super effort from his mechanics, he found himself out of the pits. However, once on the track, another problem surfaced. Vettel was asked to switch the car off but after politely questioning the decision, the issue ironed itself out and Vettel was right onto the pace.
After almost not making it into the session, Sebastian starts on the front row and has a great chance of getting into turn one before Hamilton with his fast-starting Ferrari.
While one driver can excel, another must inevitably struggle. Nico Hulkenburg of Renault had been going great guns lately. However, a run of super qualifying performances came to end today in Spain. He did well to make it into Q2 but an appearance in Q3 eluded him this weekend. Hulkenburg starts from thirteenth tomorrow.
The lap of Qualifying has to go to Fernando Alonso. The Spaniard somehow managed to get his car into the final part of qualifying, a place where only the ten fastest cars belong. The troubled McLaren has no business being in Q3. But if anybody was going to drag the car kicking and screaming into the final part of qualifying, it was going to be Fernando. He starts in a very impressive seventh place tomorrow.
Once again Alonso displays his phenomenal talent behind the wheel. He'll be hoping this pace carries over into his one-off appearance at the upcoming Indy 500 race at the end of this month.
The lack of overtaking in tomorrow's race will certainly be a factor as the battle between Mercedes and Ferrari recommences in Spain. The run down to turn one will be important, as will the pit stops. Sebastian Vettel will be hoping his mechanics can change his tires as quickly as they changed his engine.
Lewis Hamilton would surely enjoy going for a nice Sunday drive in Catalunya from the front of the grid after his woes in Russia. Meanwhile, hometown hero Fernando Alonso will simply be praying his unreliable McLaren makes it to the end of the race. Then he can maybe start thinking about retaining his promising position on the grid when the checkered flag falls.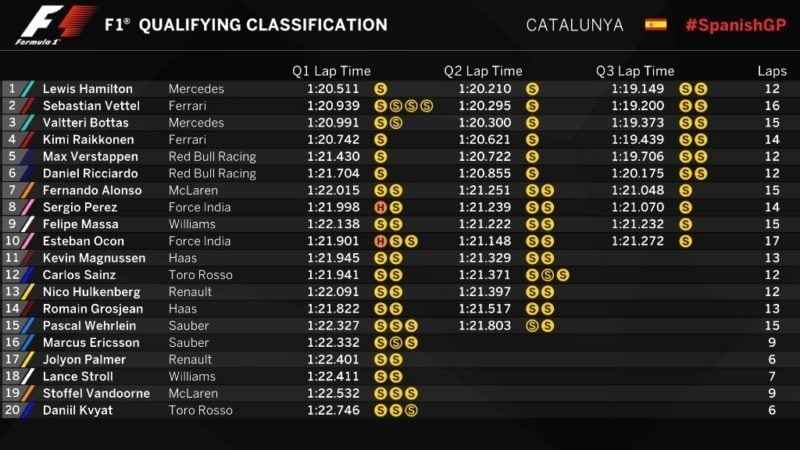 More Posts On...